RABIES found in second cat in Hamilton, Ontario
Details

Last Updated: Wednesday, 22 February 2017 14:43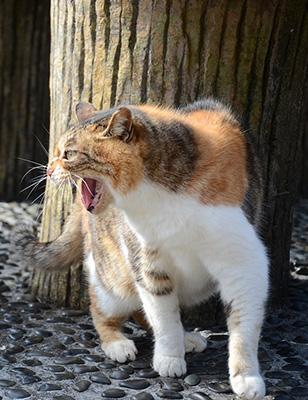 Officials are warning Hamilton area residents to keep their animals inside and protected as a second cat in the region has been found and confirmed as positive with a rabies infection. This is the second known case of a cat testing positive for the viral infection in the past year. In 2016, a Hamilton man required post exposure treatment after exposure from a bite. City of Hamilton officials are speculating that the rise in domestic cat infections can be linked to the recent boom in raccoon numbers in the city.
Testing is underway to determine if the strain of the rabies virus found in the recent rabid cat matches the strain in Hamilton's wildlife population. Until those results are released, Hamilton officials are asking that the public take the appropriate precautions. Keep cats indoors and dogs on a leash. In Ontario, it is legally required for pet owners to have their pets vaccinated. Talk to your children about the dangers of wild animals. Officials are also asking for information regarding a male tabby seen and being fed in the rural Glanbrook region between Jan. 22 and 30th.
If you suspect exposure to rabies for yourself, contact your local health department immediately. If you suspect exposure to rabies in a pet, contact your veterinarian right away.
If you suspect a wild animal has rabies, or have wild animals frequenting your yard, or living nearby, contact local Hawkeye Bird and Animal Control immediately for permanent removal and control. Hawkeye is the only wildlife control company licensed to stop the spread of rabies by euthanizing animals that carry rabies. Trapping and relocating only help to spread the disease and put your and your family at risk.