Hawkeye's Owl Experience
While some of our other bids of prey aren't built for Canadian winter, our owls will happily take over for a few months.
Originally scheduled for the end of November until the end of April - we yield to popular demand and continue to offer Hawkeye Owl Experiences, where you'll get up close and personal with our owls. Put on a falconer's glove and fly an owl!
If you are a fan of owls, you may already know 'Hoot', our Great Grey Owl and inofficial Ambassador of our Birds of Prey with his own blog :) You may also enjoy our Frequently Asked Questions about Owls »
Spend a magical hour with our magnificent owls, tour our mews, learn a little bit about each of the owl species here and Falconry in general... you are most welcome to take pictures and record video!
And, the pièce de résistance: Fly an Owl yourself at the end of your visit!
BOOK Your 1 HOUR Incredible Owl Experience
Book for 3 people and have one additional person join you for $1 | All rates plus applicable HST
1 Person $103 Book Now »
2 People $166 Book Now »
3 People $269 Book Now »
4 People $270 Book Now »
5 People $373 Book Now »
6 People $436 Book Now »

Meet our Owls up close and personal, learn about the art and sport of Falconry and how that applies to Hawkeye, Tour our mews, and fly an owl to and from your arm.
"Hoot"
Great Gray Owl
Native species found mainly in the boreal forest
Age: 1 & 1/2 years old, imprinted
Weight: 2 lbs
Wingspan: 4-5ft wide
Diet: Small mammals such as mice, voles, shrews, squirrels, weasels, small birds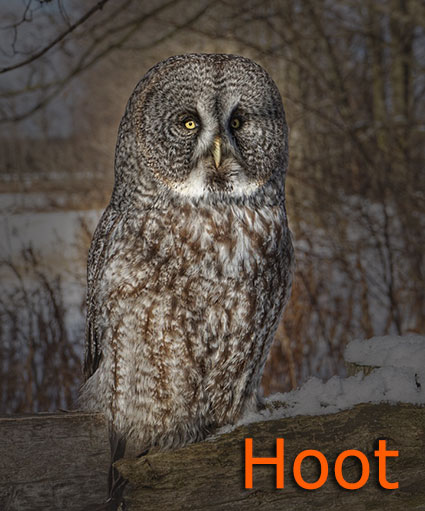 "Tank"
Subarctic Great Horned Owl
Native species to North America, largest subspecies found in the northern areas of Canada
Age: 4 years old
Weight: 4lbs
Wingspan: 4.5ft
Diet: Small to medium size mammals such skunks, rabbits/hares, birds, rodents, squirrel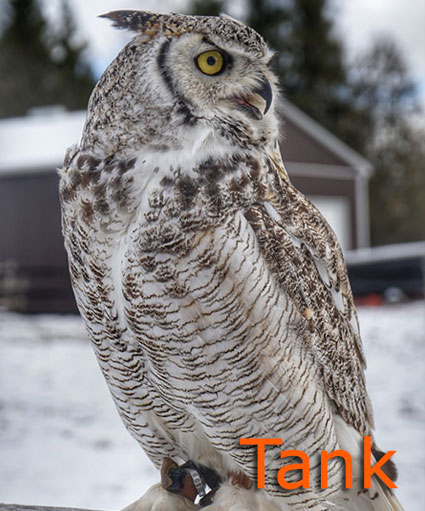 "Venus"
Siberian eagle Owl
One of the largest and powerful species in the world. This subspecies is found in Siberia and You'll find them in mountainous forests, semi-desert and Rocky slopes
Age: 1 years old
Weight: 8lbs
Wingspan: over 6ft
Diet: Large birds, small and medium size mammals including rabbits and hares, roe fawns, young foxes etc.