Hawkeye News & Bulletins
Hawkeye in the News
Coyote concerns prompt public meeting
Original Article:
Beach Metro Community News, March 19, 2013 [Bill McLean]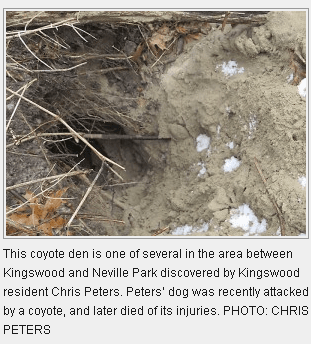 The Neville Park/Kingswood coyote – or coywolf – or Eastern Coyote – will be the focus of a community meeting March 19, from 7 to 9 p.m. (doors open at 6:30 p.m.), at the Beaches Rec Centre, 6 Williamson Rd. Area residents have been asked by Toronto Animal Services (TAS) not to feed the creature and to report anyone they might see feeding it. It is becoming socialized to people and acting more bold around humans in the neighbourhood (coyotes in the area have already attacked several dogs, and killed two).
Toronto man wakes up to find family of squirrels on his balcony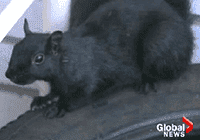 Mon, Jul 22nd 2013
Seems those bright eyed & bushy tailed rodents aren't happy staying put in their trees – they've found the perfect urban escape – high up in high-rise buildings. Minna Rhee speaks with Dan Frankian of Hawkeye Animal Control in Toronto.
Homeowner plans anti-raccoon rally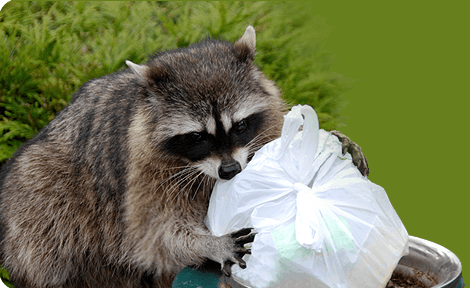 TORONTO - Jack Fava doesn't condone violence to raccoons, but he is fed up with the damage they leave behind.
Fava owns a house on Symington Ave., two blocks from where two baby raccoons were beaten to death and another severely injured Wednesday in an incident that has seen a homeowner charged.
Since Fava moved into his home in 1998, the dark-eyed bandits have been destroying his property.
Philip Preville
Why the city should start killing raccoons (kindly, of course)
Raccoons are everywhere, and at all times of the day. They're a menace to private property and public health. It's time we stopped pretending the city is a wildlife preserve
BY PHILIP PREVILLE | ILLUSTRATION BY BYRON EGGENSCHWILER | Original Article »
Hawkeye for the Pest Guy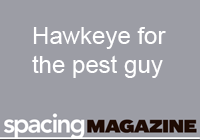 George Costanza on the TV show Seinfeld has a deal with the pigeons: they get out of his way, he looks the other way on statue defecation. Torontonians, too, have to make deals with birds, who tend to crowd the city. Luckily for us, Dan Frankian, founder of Hawkeye Bird Control, is negotiating a new contract.
History Television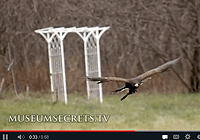 Hawkeye's Dan Frankian was called upon to help demonstrate the art of falconry for an episode for Museum Secrets, Kunsthistorisches Museum Wien, aired in Season two.
Originally, one of Hawkeye's beautiful gyr falcon was to appear in this segment... but what you saw in the final cut, was a harris hawk, instead.