Mississauga Bird & Animal Control
Hawkeye Bird & Animal Control services Mississauga, the 6th largest city in Canada. Our most urgent calls usually deal with raccoon removal and seagull control. It has a population of 750K and is attractive to both homeowners and corporate head offices due to its proximity to downtown for commuters as well as land space. Toronto Pearson Airport falls within the borders of Mississauga which draws a lot of traffic into the GTA. Bird strikes are a threat to neighbourhoods surrounding the airport as birds can get into the engines of airplanes causing significant damage and in worst cases, fatalities. The Credit River, which enters from the lake at Port Credit Harbour and waterfront area provide food and water sources for many different species of birds and animal wildlife. Parks like Marie Curtis Park on the border of Etobicoke and Mississauga, Lakefront Promenade park as well as marinas are a big attraction for seagulls, geese and pigeons. Raccoons are more often drawn to homes, backyards, and food processing plants. Please visit our sections on Raccoon Control & Removal, Geese Control & Removal, Gull (Seagull) Control & Removal.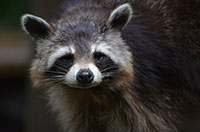 Raccoon control and removal is one of the main services we provide in and around Mississauga. Because of Mississauga's landscape, raccoons are an ever increasing issue. Wooded areas, creeks and rivers used to provide ample space and opportunity for raccoons to live and raise families but with the loss of habitat, you are more likely to encounter raccoons in parks or other green spaces... and of course, in your backyard. While generally considered more of a nuisance, raccoons frequently carry diseases such as rabies, distemper, parvovirus, mange, fleas, and roundworm. These diseases can pose significant threat to humans as well as pets. Gaining entry into your home also often means costly repairs to soffets, roofs, walls, and more. More details on Raccoon Control and Raccoon Removal in Mississauga »
At Hawkeye Bird & Animal Control we GUARANTEE permanent removal of raccoons, as well as repair damage to your home and ensure that no raccoon or other wildlife will find their way into your home or commercial building again. We urge you to find out what makes Hawkeye different; we are able to offer you raccoon control and raccoon removal methods beyond what most other companies can provide.
Seagull Control and Removal
Mississauga's lakefront as well as the ever increasing commercial spaces also tend to attract and increase the segull population. We specialize in Seagull Control and Seagull Removal. In addition to traditionally used removal methods, we deploy Birds of Prey. Falconry has proven to be a most effective method of Seagull Control and Removal. Check out some of the video we filmed while clearing a flat roof commercial building from nesting seagulls. Contact Hawkeye today for your Segull Control and Seagull Removal needs.
Mississauga is also home to one of Canada's largest malls, Square One.Parking lots often attract geese and other pest birds, with food debris and open space. Mississauga's Celebration Square, proximate to city hall and Square One is in the heart of Mississauga. In the winter, it has a beautiful skating rink and in warmer months is the center for many local events.
North Mississauga is where we find many corporate and industrial businesses which have flat roofs, an ideal nesting area for gulls (seagulls). Many residents will see a coyote while living in Mississauga. Generally, they are afraid of humans, but they will prey on unleashed dogs in backyards.
Our specialists are available for all your Bird and Animal control needs. Right from our offices in Mississauga, we provide residential, commercial and industrial services. At Hawkeye we use multiple tactics to permanently and humanely resolve your problem. Under the licences that Hawkeye possesses, we can remove pest bird or animals from your location and humanely euthanize if necessary, a distinct difference in licencing permits that Hawkeye holds compared to many other animal control companies. Check out our extensive list of services we provide using the navigation bar at the top of our home page.
We service your local neighbourhood: Applewood, Malton, Meadowvale, Port Credit, Streetsville, Cooksville, Heartland, Hurontario, Sheridan, Rathwood and more...
Summary: Hawkeye Bird & Animal Control services in Mississauga: Raccoon Control, Raccoon Removal, Skunk control, Skunk removal, Squirrel control, Squirrel removal, Seagull control, Seagull removal, Geese control, Geese removal, Pigeon control, Pigeon removal. Permanent and GUARANTEED.
Related Page(s): Raccoon Control & Raccoon Removal Mississauga