Enter a world of magic and wonder with an up close and personal look at the artistry and craftsmanship behind the Harry Potter™ films.
Immerse yourself in the world of Harry Potter by trying on the Sorting Hat™, pulling a Mandrake from its pot in the Herbology vignette, and playing a game of Quidditch™ as you experience elaborate settings such as the Gryffindor™ common room, Hagrid's hut and the Great Hall.
You'll also come upon authentic artifacts from the movies-and our Great Horned Owl "Clucker"...
Published by InsideToronto.com:
Harry Potter exhibit opening in spring at the Science Centre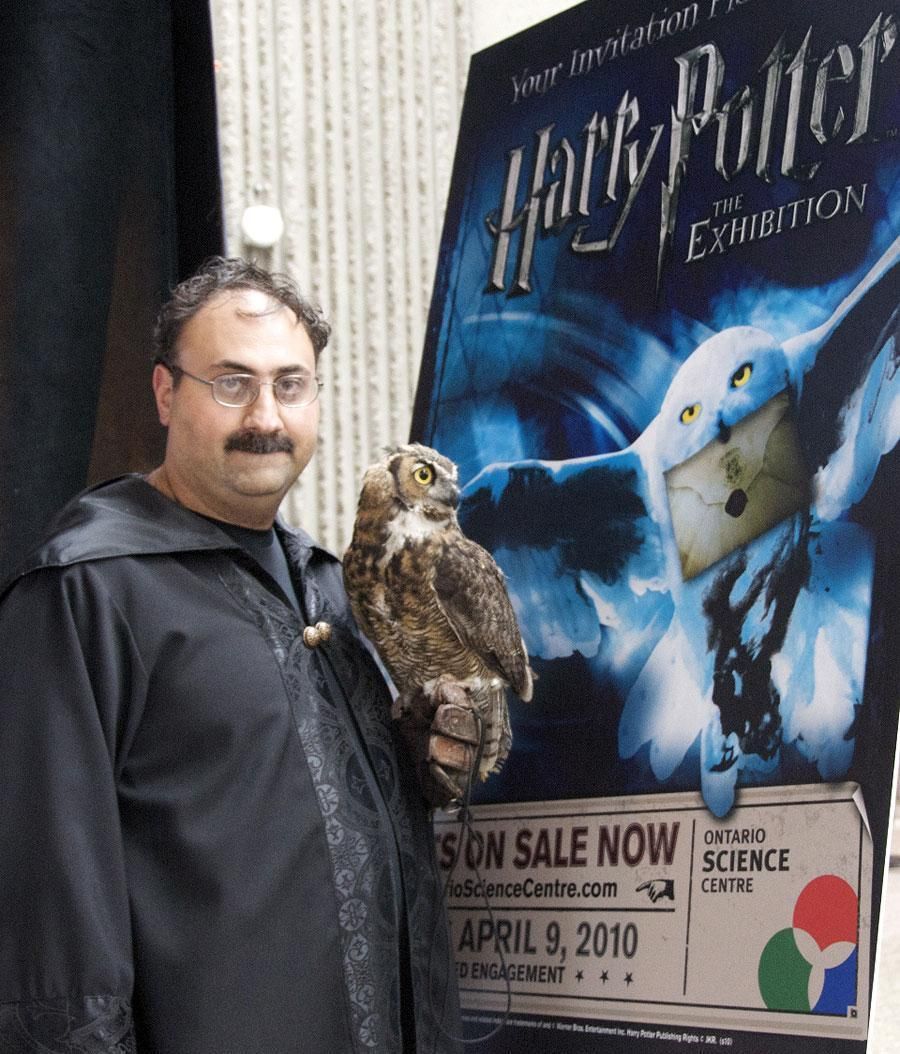 Harry Potter exhibit opening in spring at the OSC.
Dan Frankian and Clucker his Great Horned Owl, pose for photos at the launch of the Harry Potter Exhibit at the Ontario Science Centre.
Photo/MIKE POCHWAT
A little bit of wizardry will cast a spell over the Ontario Science Centre this spring when Harry Potter: The Exhibition opens April 9, 2010.
More than 200 authentic artifacts and costumes from the films, on loan from Warner Bros. Entertainment, will be on display.
The exhibit will be displayed in settings inspired by the film sets, including the Great Hall, Hagrid's hut and the Gryffindor common room.
Visitors can enter the Quidditch area and toss a Quaffle, pull their own Mandrake, tour a recreation Hagrid's hut, encounter Buckbeak the Hippogriff and look into the eyes of a giant Acromantula spider.
The exhibit will also include costumes and props from the upcoming installments of the Harry Potter film series once production of these films are complete.
The Don Mills Road and Eglinton Avenue science centre will be the first and only Canadian venue to host the exhibit, which wraps up Aug. 22, 2010.
Eddie Newquist, president of Exhibitgroup/Giltspur, created the 14,000-square foot exhibition in partnership with Warner Bros. Consumer Products.