Hawkeye Bird and Animal Control has been providing residential, commercial, and industrial bird and animal wildlife control services to the community of Bolton for 25 years. Whether you own a building plagued by pigeons or a home with squirrels nesting in your attic, we take care of pest birds, animals and wildlife. With the licences Hawkeye possesses, we can permanently remove pests. Guaranteed.
Seagull Control and Removal in Bolton
Although Bolton is largely dominated by conservation areas and residential neighbourhoods, there are still many flat roofed commercial strip malls and industrial buildings which are a huge concern in terms of Seagull Control. Seagulls prefer tar and gravel roofs for nesting as the gravel helps to make a great base for their nests. But unfortunately the majority of commercial and industrial roof tops are made this way as it is the most cost efficient style of roof. During building planning many do not consider the haven they are creating for seagulls.
Thankfully, Hawkeye is here to eliminate your problem. With effective techniques focusing around Falconry and abatement, Hawkeye uses birds of prey to effectively and humanely mitigate your seagull control and seagull removal problem. Not only are seagulls and their droppings around your property unsightly, they also pose many health concerns and potential issues with roof decay and HVAC systems. This is a problem you do not want to leave unattended. Hawkeye can disperse large flocks of seagulls in a timely manner without causing any actual harm to the birds. Let us deal with the stress for you; contact Hawkeye today to find your best seagull control or seagull removal option.
Raccoon Control and Removal in Bolton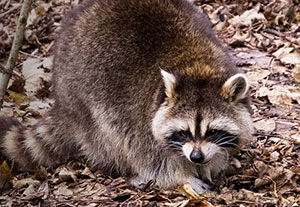 Bolton is primarily surrounded by green spaces, meaning that wildlife is often encroaching on residential properties, causing many problems for home owners. That being said, we also find raccoons sneaking into construction sites and commercial buildings. Raccoon control is one of the main issues we see at Hawkeye although we do deal with all types of fur bearing animals. Raccoons may look cute and cuddly, but they are not a pet or presence you want to have in and around your property. Raccoons and their feces contain multiple diseases and parasites that can be transferred to you or your pets, including rabies, canine distemper, and roundworm. Not to mention the thousands of dollars in damages they can cause to your home by trying to find the perfect den in your attic or chimney.
We GUARANTEE the permanent removal of raccoons. All of our technicians are licenced fur bearing trappers, meaning they can legally euthanize any fur bearing animal (raccoon) caught on your property. Contact Hawkeye today for all of your raccoon removal and raccoon control needs in Bolton.
Bolton is the largest community in the Caledon region located north of the greater Toronto area. Formally known as Bolton Mills the city was founded in 1822. Bolton draws in the rural communities that surround the city. The city itself has a population of approximately 25,954 people as of 2011. The outskirts of the city of Bolton are surrounded by nature.
Conservation areas dominate the north west
East of the city is the Humber valley river basin and the Humber valley heritage trail
All of these areas are protected by the Oak ridges moraine and the GTA green belt
Bolton is surrounded by protected land of the green belt ensuring a picturesque living space. This increases the interaction between residences and local wildlife. Bolton is a relatively established city with a mix of new homes and an established community business centre and industrial areas. With the community being nestled within the Humber valley, there are frequent interactions with skunks, deer and other types of pest animals.
Learn how to protect your home from the damage that pest animals and birds can cause by using the informational links on our website or call one of our experts for a free consultation. We provide residential, commercial and industrial services. At Hawkeye we use multiple tactics to permanently and humanely resolve your problem. Under the licences that Hawkeye possesses, we can remove pest bird or animals from your location and humanely euthanize if necessary, a distinct difference in licencing permits that Hawkeye holds compared to many other animal control companies.