Hawkeye's seagull control and raccoon removal services are available in Etobicoke, an administrative district and one of six municipalities amalgamated into the city of Toronto, Ontario, Canada. Originally a municipality in the west end of the city, it grew into city status in the 20th century. In 1998, its city status and government dissolved after it was absorbed into present-day Toronto. Etobicoke's bordering on Lake Ontario and the Humber River greatly contributes to its ever growing bird and animal wildlife control problems. Of course, its proximity to Toronto's Pearson International Airport makes these that much more urgent. Seagull control, as well as geese is a major concern around any airport.
Seagull Control and Removal
With damage to aircraft and loss of human life at stake, seagull and geese control are of utmost importance and urgency. Also, flat roofed strip and shopping malls are a concern in terms of seagull control. From just the unsightly droppings, to health concerns and danger to roofs, ventilation, etc., removing nesting seagulls is imperative.
At Hawkye, we employ a host of methods to get rid of seagulls; probably THE most effective being Falconry. Our trained Birds of Prey fly over seagull invested areas and word travels quickly. Large flocks of seagulls disperse very quickly and without actual harm to the birds. Check out some of our videos - hundreds of seagulls taking off and vacating a commercial roof. Call us at 416.429.5393 to discuss your seagull control options.
Etobicoke is primarily suburban in development and heavily industrialized, resulting in a lower population density than other districts of Toronto. Much of its cityscape is characterized by larger main streets, shopping malls, and cul-de-sac housing developments. Etobicoke has several expressways, including Highways 427, 401, 409, the Queen Elizabeth Way (QEW) and Gardiner Expressway. Etobicoke is the western terminus of Line 2 Bloor-Danforth of the Toronto subway and served by four suburban rail stations of GO Transit. Humber College is in Etobicoke, encompassing two campuses, one of which is also home to the University of Guelph-Humber.
Raccoon Control and Removal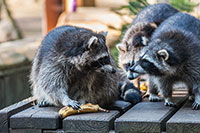 Etobicoke, like most of the GTA, is also plagued by raccoons. Many of the calls for help we receive concern raccoon control and removal. What sets up apart from other companies is our licensing and our training. We are able to legally offer you raccoon control solutions others cannot. This is why we GUARANTEE that a trapped animal will not return to your property. We offer guaranteed and permanent raccoon removal solutions. Call us today to find out more: 416.429.5393