Hawkeye Bird & Animal Control has been servicing the town of Georgetown for their bird and animal wildlife control needs for over 25 years. Hawkeye provides residential, commercial and industrial services for nuisance animals and birds like seagulls, pigeons and geese, as well as raccoons, squirrels, and skunks. Seagull and raccoon control and removal makes up the majority of our service calls in Georgetown.
Seagull Control and Removal in Georgetown
With a population of just over 42,000, Georgetown is one of the smaller cities in the Halton Region, but it houses a surprising amount of manufacturing plants including facilities for computers, concrete, and aluminum castings. The roofs of manufacturing factories, commercial properties, business buildings, and pretty much any industrial facility is the perfect location for seagull colony nesting. But why is seagull control so important for you as a business owner? Not only are seagulls an unsightly pest to have on your property, they also carry disease, cause roof decay, and clog your HVAC system with their feathers and droppings, among many other problems. Hawkeye utilizes the age old sport of falconry as our main technique for seagull abatement. What this means for you as a property owner in Georgetown is that our birds of prey, in addition to other deterrents, will humanely solve your seagull control problem and provide effective seagull removal from your roof. Our techniques are fast and effective and guarantee to solve your seagull control problem. If you are experiencing pest bird issues on your property, contact Hawkeye today to quickly and effectively mitigate your seagull problem.
Raccoon Control and Removal in Georgetown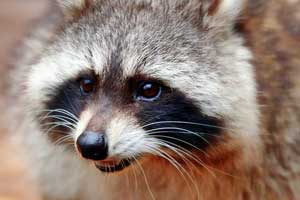 With close proximity to many green spaces and the credit river, residential homes in Georgetown are likely to face wildlife encounters, some wanted and some unwanted, like raccoons. Raccoons not only carry disease through contact and their feces, but they can cause a significant amount of damage to your home and your property as well. Roof damage, leaks, fire hazards, torn up lawns and feces are just some of the ways that raccoons can damage your property; these are indeed unwanted guests.
Luckily Hawkeye has you covered, with service in Georgetown for raccoons, skunks, squirrels, ground hogs, and many other wildlife; we are your one stop shop for wildlife removal and raccoon control. Our technicians carry wildlife fur bearing trapping licences giving them the ability to euthanize any fur bearing animal caught on your property. This will ensure that your problem is solved permanently. Contact Hawkeye today for all of your raccoon control and raccoon removal needs in Georgetown, Halton hills, and anywhere in the Halton region.
The town of Georgetown (sometimes referred to as Halton Hills) is located in Halton region. Located North or Mississauga & Milton and West of Brampton all within the Greater Toronto area. It is considered a bedroom community for the GTA with many people making the trek to the downtown core daily. The city is located along highway 7 with the Credit river cutting just north of the community. The city has an approximate population of 40,000. The town was founded in the early 1820 by George Kennedy, the community was started around a sawmill built where Main street now runs. Population has been growing steady over the last 40 years.
Georgetown has all the big cities amenities with the heart of a small town. It's only a 10-minute drive to either Mississauga or Brampton but the city still keeps its rural charm. A weekly farmers market, Highland Games and an annual fall fair in addition to a thriving Main Street are the pride of the town.
Clubs & activities:
Georgetown Raiders Tier II Junior "A" ice hockey team, part of the Ontario Junior Hockey League.
Halton Hills Bulldogs Junior "B" box lacrosse
Halton Hills Gymnastics Centre
Halton Hills Blue Fins Swimming club
Georgetown Skate Park
Gellert Community Centre
Economic activity:
Mold-Masters Limited
CPI Canada
Eastwood Guitars
Saputo
Cooper Standard
ADM Archer Daniels Midland Cocoa (was Ambrosia Chocolate)
The town of Georgetown (Halton Hills) is a mixture of old and new homes with many areas nestled right next to the credit river, farmland and other forests. This type of mixture allows for encounters with wildlife and other pest animals. Learn how to pest-proof your home from the damage that pest animals and birds can cause by using the informational links on our website or call one of our experts for a free consultation. The key areas of concern for Georgetown are raccoons, skunks, squirrels and unwanted nesting birds. At Hawkeye, we use multiple tactics to permanently and humanely resolve your problem. Keeping both the customer and wildlife happy is our main goal. We provide residential, commercial and industrial services.Under the licences that Hawkeye possesses, we can remove pest bird or animals from your location and humanely euthanize if necessary, a distinct difference in licencing permits that Hawkeye holds compared to many other animal control companies. Call for a free consultation.