Seagull Control and Removal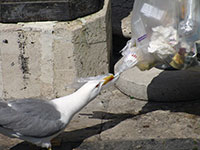 Since Scarborough is so diverse, containing many commercial and industrial buildings, there is no shortage of seagulls looking for the perfect roof to nest on. Seagull control and seagull removal is necessary in a city like Scarborough or, we would be overrun with seagulls even more so than we already are.
Using falconry, birds of prey, pyrotechnics, and nest/egg removal, Hawkeye provides the most effective form of seagull control and seagull removal. Make sure you catch your problem early; if you are seeing seagulls nesting on your property in Scarborough, contact Hawkeye today for your Scarborough Seagull Control and Seagull Removal needs.
Raccoon Control and Pest Raccoon Removal
Although Scarborough is rich with commercial and industrial areas, there is no shortage of residential properties and green spaces that make the perfect home for raccoons and other wildlife.
Most commonly you will find raccoons nesting in your attic, shed, under your deck, or in a tree in your backyard. Raccoons nesting in and around your property can be a huge health and safety risk for you and your family. Not only do raccoons carry a large amount of diseases, including rabies and ringworm in their feces; they can chew through your electrical wiring and cause a major fire hazard in your home as well as thousands of dollars of additional damage.
If you are having issues with raccoons, you're in luck! Hawkeye is the number one company for raccoon removal in the GTA and Scarborough is one of the major cities we service on a daily basis. We offer permanent and effective solutions for your raccoon control and raccoon removal needs. With licenses from the Ontario Fur Managers Federation and the Ministry of Natural Resources and Forestry, our licensed technicians can humanely euthanize any pest animal we trap on your property guaranteeing permanent removal. Contact Hawkeye today for your Scarborough Raccoon Control and Pest Raccoon Removal needs.
Scarborough, now an amalgamation of Toronto, still feels like a city itself to its residents. While its population is part of the 6 million people living in Toronto, Scarborough alone makes up almost 630K or 11%. Calls for our services in Scarborough generally pertain to seagull or pigeon control and removal on the bird side, skunk, squirrel, and raccoon control and removal on the animal side.
A cultural mix, the make-up of Scarborough is mostly immigrants with more than 50% of the residents born outside of Canada.Its bordered by Lake Ontario to the south, Steeles Ave to the north, Victoria Park to the west and the Scarborough-Pickering Townline and Rouge River to the east. The Toronto Zoo is a major tourist destination within Scarborough, which is surrounded by Rouge Park. The Zoo creates a unique habitat for local wildlife in that it can attract wildlife to open green areas and sources of food, but deter wildlife from large prey that wouldn't normally inhabit this region.
Rouge Park is a massive conservation area and park divided by the Rouge River. It spans all the way from Steeles to Lake Ontario at Rouge Beach and borders the city of Pickering. It has an extensive map of trails and attracts a multitude of wildlife animals and birds along with sightseers, outdoor enthusiasts, hikers, bike riders and more.
Scarborough has no shortage of parks and green space. Further west of Rouge Park closer to the core of Toronto is the Scarborough Bluffs, an escarpment along Lake Ontario. Within The Bluff's are a number of parks, most notably is Bluffers Park encompassing a couple yacht clubs and marinas, restaurants, sailing school and of course the views at a number of elevated points. Residents and tourists also come to the beach in the summer at the base of the Bluffs with its spectacular backdrop.
No matter the terrain, our specialists at Hawkeye are available for all your Bird and Animal control needs. We provide residential, commercial and industrial services in your Scarborough neighbourhood. Navigate through our bird and animal specific pages to learn more or give our experts a call for a free consultation at your home or business. At Hawkeye we use multiple tactics to permanently and humanely resolve your problem. Under the licences that Hawkeye possesses, we can remove pest bird or animals from your location and humanely euthanize if necessary, a distinct difference in licencing permits that Hawkeye holds compared to many other animal control companies.