Hawkeye Bird and Animal Control Services Ajax, ON Hawkeye Bird and Animal Control Inc. is your solution to pest birds, animals or wildlife.
Whether you are a homeowner with a squirrel who has taken up residence at your home or a commercial or industrial yard with pigeons or gulls causing damage to your machinery and equipment, Hawkeye will service your Ajax neighbourhood and provide a permanent solution to your pest problem.
Ajax Seagull Control and Removal
With its proximity to Lake Ontario and an ever increasing amount of commercial and industrial properties, Ajax is a very popular location for seagulls. Luckily, we specialize in Seagull Control and Seagull Removal. The main technique we use is Falconry. By deploying Birds of Prey in combination with other control techniques such as pyrotechnics and nest and egg removal, we can effectively and humanely solve your seagull control issue. Contact Hawkeye today for all your Seagull Control and Seagull Removal needs.
Raccoon Control and Removal in Ajax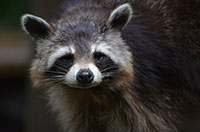 Ajax is rich with residential neighbourhoods, most of which border on parks and conservation areas. Whether you live north or south of the 401, raccoons and other wildlife on your property can be a real issue. The most common animal we see causing issues is raccoons, but other wildlife such as squirrels, opossums, beavers, coyotes, and foxes can also be a nuisance. Raccoon Control and Raccoon Removal is part of our main speciality at Hawkeye. With customized techniques and permanent removal solutions, Hawkeye can provide you with an easy and effective raccoon removal solution. Since we are licensed by the OFMF and MNRF we can legally euthanize any trapped fur bearing animal we find on your property. We work hard to keep your property free of damage and disease. Contact Hawkeye today for a quick, effective, and permanent solution to your Raccoon Removal and Raccoon Control needs.
Ajax Ontario is located on the eastern side of the Greater Toronto area (GTA). The city itself is located north and south of the 401 Hwy. There are four major cities composing the eastern area of the GTA; Pickering, Ajax, Whitby and Oshawa in order of distance from Toronto. The city of Ajax itself isn't very old being first established in 1941 it has long been known as a bedroom community. Allowing people working in downtown Toronto the opportunity to buy larger homes in a suburban community but remain proximate to the employment core of Toronto. Since the communities humble post war beginnings it has grown and developed into an economic entity of its own. As of 2011 the population was approximately 109,600 and this population base continues to grow. Resulting in a population growth boom of approximately 5% per annum.
Ajax is the birth place of several international musicians including; Sum 41, Snow, and Toya Alexis (Canadian idol finalist).
Its greatest benefit for the residence is the proximity to large areas of protected wilderness in the Ontario green belt and Lake Ontario that boarders the south of the city. Some of the more well known parks include Rotary park & Greenwood conservation area. This proximity to nature has encroached on the native surrounding wildlife. Deer, coyotes & foxes can frequently be seen in residential areas to the north. While residents close to Lake Ontario have to deal with seagulls and geese. With the City now starting to reach a mature age homes, business or industry are starting to decay and require renewal. Its these decayed homes and business that are incubators for pest issues including mice, Norway rats, ants, bedbugs and skunks.
Learn how to pest-proof your home from the damage that pest animals and birds can cause by using the informational links on our website or call one of our experts for a free consultation. We provide residential, commercial and industrial services. At Hawkeye we use multiple tactics to permanently and humanely resolve your problem. Under the licences that Hawkeye possesses, we can remove pest birds or animals from your location and humanely euthanize if necessary, a distinct difference in licencing permits that Hawkeye holds compared to many other animal control companies.