Brampton, located within the region of Peel, is growing at a rapid pace. Located north and west of Mississauga, it is bounded by Mayfield Rd/Hwy 14 to the North, Highway 50 to the East, Winston Churchill to the West and a little south of the 407 in the South end of the city. Brampton is becoming an ever popular area for housing developments because it offers residents a slightly bigger house, small yard for much less than the cost of living in the City of Toronto or Mississauga and is also proximate to Pearson Airport. Brampton has a population of 524K and is the 2nd fastest growing city in Canada.
Brampton's main complaints are segulls and pigeons, followed by geese - attracted to the many ponds and park areas like Claireville Conservation Area, Gage Park, and Chinguacousy Park. Over the next few years the number of wildlife issues is expected to grow. With housing developments encroaching on natural green space, particularly in the north west end of the city, residents will increasingly meet wildlife such as raccoons, skunks, coyotes, foxes and groundhogs.
Seagull Control and Removal in Brampton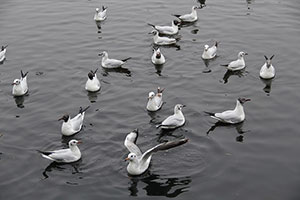 Although there is a large amount of residential areas in Brampton, there are many manufacturing facilities and commercial malls and plazas; these are our main concern when it comes to seagull control. The GTA, including Brampton is majorly overrun with seagulls and we receive many calls for urgent seagull control. Many people don't realize that seagulls are a problem until it's too late and roofs are decaying from acidic droppings causing leaks, HVAC systems are filled with feathers and dried droppings, and air quality in the building is severely affected.
Seagulls and their droppings are not only unsightly, but are a major health concern especially for food manufacturing facilities that may have to close down production until their seagull control problem is mitigated. Our main form of seagull control is falconry. Using birds of prey in combination with other deterrents has proven to be the most effective form of seagull control and seagull removal. Contact Hawkeye today for a personalized, effective, and timely solution to your seagull control and seagull removal needs.
Raccoon Control and Removal in Brampton
With the ever increasing residential neighbourhoods in Brampton, raccoon removal is a common concern with home owners. Whether raccoons or other wildlife have broken into your roof, chimney, shed, garage, or under your deck, Hawkeye has you covered. We provide permanent raccoon and wildlife removal by euthanasia. Our licenced technicians hold trapping licences which legally allow us to permanently solve your raccoon control issue; many other companies only have the capacity to relocate raccoons within one kilometer. Raccoons carry disease, damage your home, and can be a danger to you and your pets, so it is no wonder that so many people don't want them on their property. If you are one of the many people with raccoon control issues, contact Hawkeye today for a fast, effective, and permanent raccoon removal solution.
Whether you just moved into Brampton or have been here many years, Hawkeye continues to be your #1 choice when it comes to providing the Bird and Animal control services you need to proof your home or company. We provide residential, commercial and industrial services in Brampton. At Hawkeye we use multiple tactics to permanently and humanely resolve your problem. Under the licences that Hawkeye possesses, we can remove pest bird or animals from your location and humanely euthanize if necessary, a distinct difference in licencing permits that Hawkeye holds compared to many other animal control companies.
Navigate through our bird and animal specific pages to learn more or give our experts a call for a free consultation at your home or business.