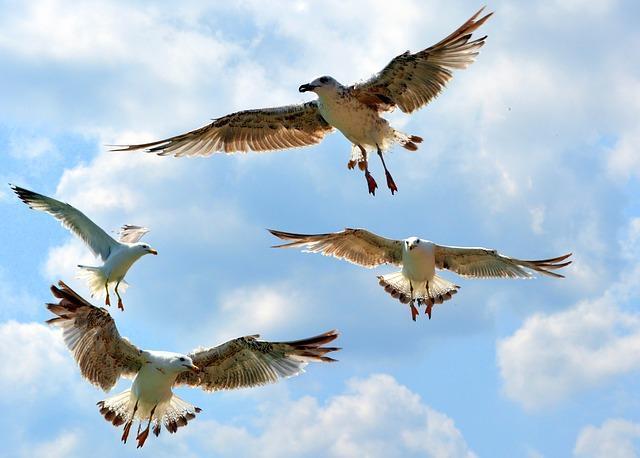 When it comes to Seagull control or Seagull removal, we prefer Falconry using live birds of prey to deter seagulls from congregating and nesting in public spaces, such as Gairloch Gardens, and other treasured places along the Oakville waterfront. Pyrotechnics, electrical exclusion, netting, ledge modification, and nest removal are other long term solutions for heavily infested areas. The main thing to keep in mind is that as long as there is an abundance in food - seagulls will return.
Contact Hawkeye today to control and remove seagulls from private or commercial property and buildings in and around Oakville
Raccoon Control and Removal in Oakville
Equally important is the control and removal of raccoons from both, residential and commercial spaces. Hawkeye is in a unique position to offer GUARANTEED RESULTS, due to the extent of our licenses. Our raccoon removal technicians are trained and experienced trappers - learn more about raccoon control and removal »
Oakville
Oakville is located within the Halton region of Ontario. With a population of 182K, it is an old, well established city. Bordered by Burloak Dr. to the West, Lake Ontario to the South, Winston Churchill Blvd to the East and the 407/Lower Base Line to the North, it is known for its beautiful lakefront community, parks and many golf courses like Glen Abbey and Oakville Executive Golf. To many pest birds and wildlife, a golf course is the perfect nesting ground with manicured lawns, ponds and typically some surrounding ground cover. Seagull populations plague Oakville's lake shore during the summer months in particular.
.
The Sixteen Mile Creek and Bronte Creek both run up from Lake Ontario, providing rich parks along the creeks, heavy forestry and beautiful waterfront areas. Lakeside Park and Coronation Park run along the lakefront while many other parks like Bronte Creek Park and Lions Valley Park have grown up forestry around the creeks.Canadian Geese and cormorants tend to be the big complaints in these areas.
The highly wooded areas of Oakville along with deep-rooted properties and backyards make the perfect home to raccoons, squirrels, skunks and more. A large portion of Oakville used to be home to apple orchards and that sandy soil is still rich with food for foraging wildlife. Oakville is unique because it is very biodiverse in both plant life as well as wildlife. This can cause frustration among home owners who are trying to keep wildlife out of their yards, gardens, sheds and homes. Older homes with grown up foliage are prime areas for raccoons, skunks and squirrels.
Our specialists are available for all your Bird and Animal control needs. We provide residential, commercial and industrial services with special focus on Oakville Seagull control and removal, Oakville Pigeon Removal, Oakville Raccoon Removal. At Hawkeye we use multiple tactics to permanently and humanely resolve your problem. Under the licences that Hawkeye possesses, we can remove pest bird or animals from your location and humanely euthanize if necessary, a distinct difference in licencing permits that Hawkeye holds compared to many other animal control companies.
Check out our extensive list of services including Oakville Seagull removal and Oakville Raccoon Removal.
Hawkeye Bird and Animal Control services your Oakville neighbourhood: Old Oakville, Glen Abbey, Bronte, Clearview, College Park, River Oaks, West Oak Trails, Uptown Core and more.
Page Summary: Bird and Animal Control Services in the City of Oakville with special focus on: Oakville Seagull removal, Oakville Pigeon Removal, Oakville Raccoon Removal