Hawkeye services many commercial and residential areas in North York. Raccoons, squirrels, skunks, geese, pigeons, seagulls; you name it and we can provide a personalized and effective solution to your bird and/or animal control problem. Calls for Seagull Control as well as Raccoon Control are most prevalent for the North York area.
Seagull Control and Removal in North York
With the large number of commercial and industrial buildings in North York, it is no surprise that this city is one of the most common areas in the GTA that we find overrun with seagulls and urgent calls for Seagull Control. Using falconry and birds of prey, Hawkeye provides the most effective seagull control and seagull removal in North York. This form of seagull control encompasses our trained hawks' and falcons' natural instinct to hunt and provides a service that seagulls will not habituate to. Contact Hawkeye today for your seagull control and seagull removal needs; you will not be disappointed.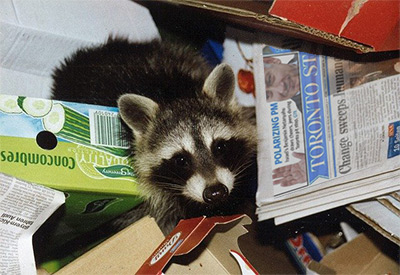 Not only do we find raccoons in residential areas, but they are also breaking into construction sites and commercial buildings; wreaking havoc, spreading disease, and prompting calls for raccoon removal and control. Whether you are a home owner, property manager, or job site supervisor, Hawkeye has effective raccoon control and raccoon removal procedures that will leave you satisfied. We GUARANTEE the permanent removal of raccoons by euthanasia to ensure these raccoons will not be back to cause more damage. Hawkeye's technicians are licenced trappers who can legally provide this service, unlike most other pest control companies. Contact Hawkeye today for all of your raccoon removal and raccoon control needs in North York.
With a population of over 850,000, North York encompasses many well-known areas of Toronto including Jane and Finch, Willowdale, Don Valley Village, York Mills, Don Mills, and Downsview. North York is rich with commercial and industrial buildings including two major shopping malls, three major hospitals, York University, Seneca College, The Ontario Science Center, and an aircraft manufacturing facility. Commercial and Industrial rooftops and window ledges are the perfect place for the nesting of seagulls and pigeons; this can often cause an unsanitary environment for workers, consumers, and clients. But not to worry, Hawkeye's Seagull Control methods have you covered from all angles providing falconry, trapping, and bird barrier products such as netting and spikes to keep your property free of pest birds.
Although there are many commercial and industrial areas in North York, this city is also rich with parks and conservation areas which increase the likelihood of wildlife in your residential neighbourhood. You can enjoy places such as Edwards Gardens, Toronto Botanical Gardens, Sunnybrook Park, Humber River Trail, G Ross Lord Park, Wilket Creek Park, Rowntree Mills Park, and Downsview Park just to name a few. But being within such close proximity to such resource rich areas for wildlife, you will often find animals such as raccoons, squirrels, and skunks trying to create a home on your property. Whether it is under your deck, in your attic, or in your chimney, Hawkeye has effective solutions to permanently rid your house of pest wildlife.
Summary: North York Bird & Animal Wildlife Control, specializing in Seagull & Pigeon Control using falconry and Raccoon Control and Removal