Hawkeye Bird & Animal Control has been servicing the neighbourhoods of the town and region of Caledon for all wildlife, birds and animal control needs for over 25 years. We provide residential, industrial and commercial services for nuisance birds and animals like deer, raccoons, ground hogs, as well as pigeons, gulls and geese. Top concerns for Caledon seem to be Seagull Control and Raccoon Removal
Seagull Control and Removal in Caledon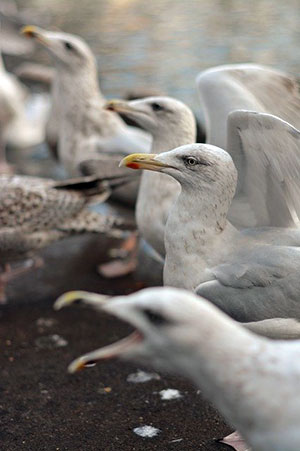 Even though there are few industrial areas in Caledon, there are many public schools, commercial buildings, and business parks that experience issues with seagull control and seagull removal. Any flat rooftop near a water source and food is the perfect haven for a colony of seagulls to begin nesting. If you live in Caledon and are responsible for a building like those listed above, it is critical that you check your rooftop often for signs of seagull nesting as this problem is best dealt with before nesting begins. But not to worry, no matter what state your rooftop is in, Hawkeye is here to help. Falconry and birds of prey are our main solutions for seagull control and seagull removal. It has proven the most effective and humane solution as our trained birds will instil fear in the seagulls that will encourage them to nest elsewhere. In addition to falconry, Hawkeye also uses techniques such as pyrotechnics, nest and egg removal, and exclusion methods.
If you are having problems with seagulls and require a professional, call Hawkeye today for a personalized and effective solution to your seagull control and seagull removal needs.
Raccoon Control and Removal in Caledon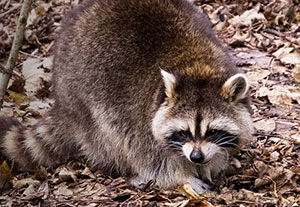 With such a high percentage of land in Caledon being covered by trails, conversation areas, and provincial parks, there is a good chance of encounters with wildlife on properties in the surrounding areas. Raccoons are big fans of nesting in residential homes; it provides them a quiet, secluded area, away from other wildlife. The problem is, they spread many diseases and can cause a lot of damage, making them a danger and safety risk for you, your family, and your pets. If you are having problems with raccoon control or raccoon removal in your Caledon home, Hawkeye can provide you with a permanent solution. With licenced fur bearing trapping technicians, we can legally euthanize any raccoon trapped on your property, ensuring that they will not be back. Call Hawkeye today for all of your raccoon control and raccoon removal needs.
.
The town of Caledon is also refereed to as Caledon Region. The region is an amalgamation of numerous urban areas, villages, and hamlets; with the largest population centre being Bolton. The region is located to the east of the York region in the GTA. The Caledon region is bounded by highway 9 to the north, Winston Churchill to the west, Mayfield Road to the south and the Caledon King Town Line South. The overall region has a population of over 57,000 people and covers a vast area of primarily rural terrain of 379 sq. km. There are numerous conservation and provincial parks scattered throughout the area. See below for a list of significant parks within the area. The entire area is covered in mature forested areas with many trails and attractions for hikers and other nature enthusiasts. These mature forests bring a host of wildlife into the area including white tailed deer, raccoons, chipmunks, squirrels, groundhogs, muskrats and more.
Major Nature parks & protected areas in the Caledon region:
Caledon Lake Forest Conservation Area
Cheltenham Badlands
Forks of the Credit Provincial Park
Heart Lake Conservation Area
Robert Baker Forest Conservation Area
Terra Cotta Conservation Area
Warwick Conservation Area Nature Trails
Bruce Trail
Caledon Trailway
Elora-Cataract Trail
Grand Valley Trail
Humber Valley Trail
Andrew's Treasure Trail
Oak Ridges Trail
The Caledon region is a beautiful area of central Ontario. Its draw is the rolling terrain and mature forests. However, the natural beauty also brings direct interaction with wildlife. Learn how to safe-proof your home or business from pest birds and animals by clicking on our tools and tips for Bird and Animal Control.
We provide residential, commercial and industrial services. The biggest concerns for the area are Deer, raccoons, ground hogs, foxes, mice and many other creatures. At Hawkeye, we use multiple tactics to permanently and humanely resolve your problem. Under the licences that Hawkeye possesses, we can remove pest bird or animals from your location and humanely euthanize if necessary, a distinct difference in licencing permits that Hawkeye holds compared to many other animal control companies. Call for a free consultation.