Hawkeye bird and animal removal news update bulletins
Easter Brunch with Hawkeye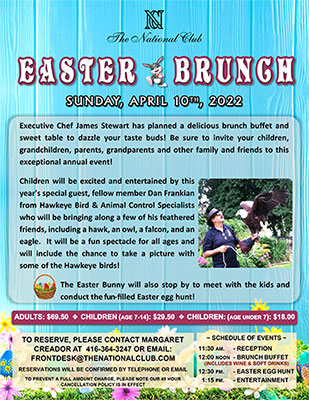 The Easter Bunny and his close friend Dan Frankian are set to delight children of all ages on Sunday, April 10th at the National Club, Downtown Toronto.
Dan will be joined by a hawk, a falcon, an owl, and an eagle - all part of Team Hawkeye! Come on out and meet our Birds of Prey!
COVID-19 Update
Update: We anticipate reopening our offices as of June 22nd, 2020. Also, our Falconry Experience will be available again (with social distancing precautions).
Hawkeye's Bird Control and Animal Wildlife Removal Services will remain available during this time of non-essential business closures due to the COVID-19 virus. We will continue to keep our clients pest free.
Hawkeye is a licensed Pest Control Company and owner Dan Frankian holds a valid Exterminator License. We are considered to deliver essential services, according to Ontario's List of Essential Workplaces, section 40 (Environmental Services).
Environmental services
Businesses that support environmental management/monitoring and spill clean-up and response, including environmental consulting firms, professional engineers and geoscientists, septics haulers, well drillers, pesticides applicators and exterminators, management of industrial sewage/effluent (e.g. for mining operations), and environmental laboratories
Our technicians generally work alone and do not require personal contact with clients. At any time, we observe extensive safety protocols - now more so than ever.
We would like to thank our employees, contractors, customers, suppliers and all of you during this difficult time. We will do everything we can do support you.
Thank you.
Hawkeye is expanding!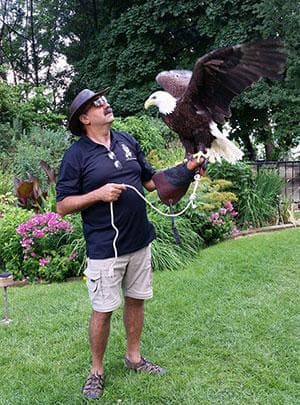 As published by NWCOA CWCP:
Hawkeye Bird and Animal Control of Canada (www.hawkeye.ca) is now opening an office in West Palm Beach, Florida, offering bird control and falconry services to Florida commercial and residential customers.
Hawkeye Bird and Animal Control is owner operated by Dan Frankian since its inception in 1989. Hawkeye quickly grew from a one-man operation using one hawk and expanded to a business with 18 staff members and dozens of birds of prey.
Dan Frankian has worked nationally, as well as internationally, for various government agencies and large corporations. Dan Frankian's birds of prey and dogs have appeared in and have opened for several live shows and documentaries, as well as films and promotions such as Harry Potter.
Dan continues to speak at events and conferences worldwide, discussing such issues as bird and animal control, bird removal, bird strikes and abatement. As an expert outdoorsman, shooter, hunter and trapper, he is concerned with environmental issues and renewable natural resources. Dan is CWCP certified and a NWCOA member.
New Location:
Hawkeye Bird & Animal Control
5600 North Flagler Drive #705
West Palm Beach FLORIDA 33407
USA
Better Business Bureau
In our ongoing effort to support and contribute to exceptional business ethics, we continue to renew our commitment to be part of the Better Business Bureau community for the year 2019.
The Better Business Bureau (BBB), founded in 1912, is a private, nonprofit organization whose focus is on advancing marketplace trust. 106 independently incorporated local BBB organizations in the United States and Canada are part of the Council of Better Business Bureaus (CBBB) in Arlington, Virginia.
Businesses that affiliate with the BBB and adhere to its standards do so voluntarily and through industry self-regulation. As a BBB accredited business, Hawkeye pledges and continues to adhere to the BBB Code of Business Practices.
Jessing: Great Horned Owl
In this series of photos you can see Master Falconer and Hawkeye C.E.O. Dan Frankian "Jessing" our Great Horned Owl; a member of our team who will be used for Bird Control and Falconry Experiences.
The first step is to attach leather anklets around the tarsi of the Owl. These anklets are then fastened using an eyelet grommet and punch pliers. Leather jesses are then attached through these eyelets using a knot.
In the past the leather jesses were fastened directly around the tarsi of the bird. This new two piece style of jesses are referred to as "Aylmeri Jesses" which specifically refer to the use of both anklets and jesses. The main benefit of the separate anklet and jess is to provide more comfort for the Owl, and to prevent rubbing or irritation of the tarsi. These jesses allow for the most unencumbered movement while attached to a leash.
With Hawkeye Bird and Animal Control, this Great Horned Owl will get to utilize instinctual hunting abilities to perform bird control for gulls, starlings, and many different nuisance birds. Come to our facility and meet this Great Horned Owl up close and personal at our falconer for a day experience. You will get to see many different Eagles, Owls, Hawks, and Falcons, get up close and personal, learn about the art of falconry, and see a spectacular flight display of one of our Harris Hawks. You will also get to call this Harris Hawk directly to your own fist.
This is an amazing experience good for anyone age 5 and up. Contact us page to find out more about bird control or book your falconer experience today.
Featured: Hawkeye Ferruginous Hawk
Ontario Falconer Dan Frankian brought a Ferruginous Hawk (native to the prairies) to the production of a promotional video for the government of Saskatoon and the RCMP. Here are some highlights: