Hawkeye Bird and Animal Control Services has been in the animal control business for over 25 years. We provide residential, commercial and industrial services for seagull control, pigeons or geese and raccoon control and removal, skunks and squirrels in Barrie, Ontario.
Seagull Control in Barrie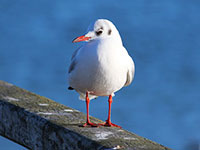 Barrie, due to the proximity of Kempenfelt Bay, attracts many seagulls which can cause major issues for industrial and commercial buildings, as well as farmland. Seagull droppings have a high acidity level, which can lead to the breakdown of industrial roofs causing leaks and other issues, especially on the weathered mature buildings in Barrie. Also, since they travel in colonies, your property can easily get over run by nesting seagulls, causing problems for your production, factory workers, and customers alike.
But no matter what your issue, Hawkeye is here to help. Using Falconry (Birds of Prey) in combination with other deterrents, Hawkeye provides effective solutions for Seagull Control and Seagull Removal. All of our technicians are professional licenced falconers and know the ins and outs of Seagull Control and therefore can help you with your problem no matter how large the job. Contact Hawkeye today for all your Seagull Control and Seagull Removal needs.


Raccoon Control & Removal in Barrie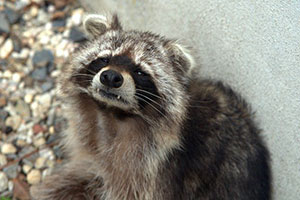 Barrie is a well-developed community on the way to cottage country. That said, many houses in this area have been there for quite some time and are in the perfect condition to allow access to unwanted wildlife such as raccoons. It is common to find raccoons nesting under your deck, in your attic, in your shed, or in y our garage. Needless to say these are all unwanted places for nuisance wildlife.
Thankfully Hawkeye has you covered. We are the only Raccoon Control and Raccoon Removal Company in the GTA that can permanently solve your problem. Most other companies can only relocate raccoons within one kilometer, which is not effective as raccoons can travel over six kilometers in a single day. Since all of our technicians are licenced fur bearing wildlife trappers, this gives us the unique ability to euthanize any fur bearing nuisance wildlife we trap on your property. Contact Hawkeye today for a personalized, effective, and permanent solution to your Raccoon Control or Raccoon Removal problem.
Barrie Ontario is the 34th largest city in Canada and is located about an hour north of the city of Toronto.
It has a population of approximately 136 thousand people.
It is considered the gateway to cottage country.
Hwy 400 connects Barrie to the city of Toronto to the south and Hwy 400 (formerly Hwy 69) continues north into the Muskokas and beyond eventually leading into the TransCanada Hwy, while Hwy 11 leads off toward the Halliburton highlands.
Barrie, being the gateway to the north, frequently encroaches upon the natural territories of surrounding wildlife. These includes geese (Canadian geese), gulls (seagulls) and other water fowl from the Kempenfelt Bay which extends out into Georgian Bay. Housing developments also encroach on ground animals like squirrels, raccoons and skunks. In addition, there are frequent visits by deer and the occasional issue with bears, season dependent.
The big attractions of the community include:
The Barrie colts (Ontario Hockey League)
Barrie film festival
The major employers in the community are:
Georgian College
Coca cola bottling company
IBM
Sun media
County of Simcoe
Barrie is on Kempenfelt Bay, surrounded by farmland and wrapped with conservation area. Barrie is a mature city with aged homes, business and industries. These elements require renewal and maintenance otherwise they start to decay. It is these decayed homes and businesses that are incubators for pest animals including squirrels, groundhogs, raccoons, rabbits and skunks.
Learn how to protect your home from the damage that pest animals and birds can cause by using the informational links on our website or call one of our experts for a free consultation. We service residential, commercial and industrial. At Hawkeye we use multiple tactics to permanently and humanely resolve your problem Under the licences that Hawkeye possess, we can remove pest bird or animals from your location and humanely euthanize if necessary, a distinct difference in licencing permits that Hawkeye holds compared to many other animal control companies.