Hawkeye Bird & Animal Control has been servicing the Greater Hamilton area for over 25 years. While Seagull Control and Raccoon Removal are the most common concerns, Hawkeye provides industrial, residential, and commercial services for other nuisance birds and animal wildlife as well; This includes gulls, pigeons and geese, as well as raccoons, squirrels and skunks.
Hamilton is located at the western end of the curve of the Golden horseshoe just west of the GTA east of the Niagara region and is a main shipping port on Lake Ontario for the steel industry. The current city of Hamilton was formed in 2001 through the amalgamation of Ancaster, Dundas, Flamborough, Glanbrook, and Stoney Creek. As of 2011 the population was 520,000 people. The larger urban area is considered the 9th largest in Canada.
One of Hamilton's attractions is the Royal Botanical Gardens which spans 980 hectares over Hamilton and Burlington. This area is part of the Niagara Escarpment which is a significant bird area. It is also home to McMaster University and a campus of Brock University.
The major employment in the area include

Steelco & Dafasco (making Hamilton the Steel capital of Canada)
Coppley Apparel Group
General Electric
Vicwest Steel
SFS Intec

McMaster University

Mohawk College
Sports teams & activities

Hamilton Tiger-Cats (CFL)
Hamilton Bulldogs (OHL)

Royal Botanical Gardens

Canadian Warplane Heritage Museum
Bruce Trail
Hamilton Seagull Control and Removal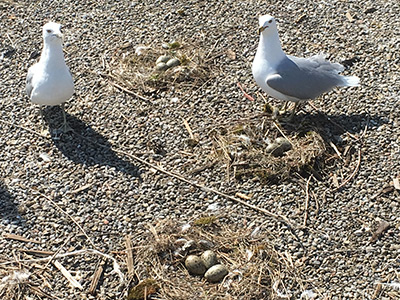 The Seagull population in Hamilton is thriving, thanks to the close proximity to Lake Ontario. Seagull control is a priority for residential and commercial customers alike. Thankfully, our birds of prey do a fairly quick job at dispersing seagulls (and other pest birds) and the results are immediate. By using falconry in seagull control, we get rid of seagulls without actually harming the birds and with minimal disruption for all.
Contact Hawkeye today to arrange for an assessment and ultimately take control of your seagull problem.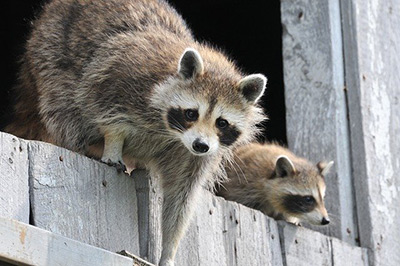 In late 2015, Hamilton was put on the map by an outbreak of rabies in raccoons. This was the first outbreak in Ontario in over 10 years and is continuing to grow. Raccoons have been the most widely affected, but some skunks and foxes have tested positive in the region as well making Hamilton the epicenter. As of May of 2016, over a hundred cases have been documented putting neighbouring cities on alert. Combined with rabies is another spreadable disease called distemper in which infected animals show similar symptoms. In both, infected animals may be out more during the day, which are normally nocturnal, they may act sick or even approach humans. Extra caution should be taken around these animals especially homes with young children. Rabies and distemper can be contracted to humans through a bite or the saliva of an infected animals. Raccoon Control continues to be of utmost importance for the Hamilton area.
If you see a sick looking raccoon or skunk, contact a licenced animal control operator like Hawkeye who can safely and humanely euthanize the animal and work with local authorities to stop the spread of rabies. Do not approach it or try to capture it yourself.
The Niagara Escarpment, a huge, forested ridge known locally as "the mountain" and dotted with conservation areas and waterfalls, divides the city and is home to plenty of animal wildlife, in addition to raccoons. At Hawkeye we use multiple tactics to permanently and humanely resolve your problem. Under the licences that Hawkeye possesses, we can remove pest bird or animals from your location and humanely euthanize if necessary, a distinct difference in licencing permits that Hawkeye holds compared to many other animal control companies. Call for a free consultation.