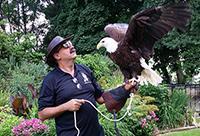 Canada Day for Hawkeye and team was spent at the magnificent Casaloma in Toronto, ON. A major tourist attraction for anyone visiting, Casaloma was constructed over a three-year period from 1911 to 1914 and became a museum in 1937. With its beautiful gardens and architecture, it is a popular venue for weddings, parties and film productions, but sees tourists, groups and schools daily.
On July 1st, 2016 Hawkeye had the privilege of bringing our magnificent birds of prey to display for the visitors at Casaloma. In tow with us were 2 peregrine falcons, our owl 'Boo', and a bald eagle. In between our demonstrations, visitors were able to get up close for a picture with Boo.
We look forward to our next adventure, who knows maybe we will see you. Hawkeye is available for your next event, a company picnic, camp or gala. Contact us today.