Taking notes from Nature: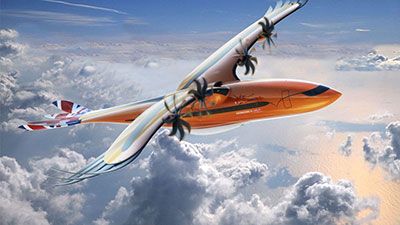 Airbus has created a new design that looks a little like a "bird of prey". The hope is that it will provide inspiration to a new generation of engineers, according to a statement on the Airbus website.
The new design features slightly curved wings and tails that look like a bird's feathers and was unveiled in the U.K. at the Royal International Air Tattoo air show.
Entirely conceptual at the moment, it features "hybrid-electric propulsion, active control systems and advanced composite structures," Airbus said in a statement. Each of the unusual "feathers" on the edge of the plane's wings and tail are meant to be individually manipulated for better flight experience and control.
In addition, the "blended wing-to-fuselage joint" is designed to be more aerodynamic, mimicking the look and feel of an eagle or falcon in the air, according to Airbus. Taking inspiration from nature is one way Airbus hopes to create a quieter and more eco-friendly aircraft in the future, which is a goal many airlines are setting to combat climate change and accommodate growing demands.
Dutch airline KLM unveiled a design for an aerodynamic "Flying V" shaped plane back in June that would carry up to 314 passengers but use "20 percent less fuel" than the Airbus A350. A scale model is expected to take to the skies in October at Amsterdam Schipol Airport, although the aircraft probably won't be available for commercial service for another 20 to 30 years.
"One of the priorities for the entire industry is to make aviation more sustainable – making flying cleaner, greener and quieter than ever before," said Martin Aston, Senior Manager at Airbus, in a statement. "We know from our work on the A350 XWB passenger jet that through biomimicry, nature has some of the best lessons we can learn about design."
"Our 'Bird of Prey' is designed to be an inspiration to young people and create a 'wow' factor that will help them consider an exciting career in the crucially-important aerospace sector," said Aston.
Learn more about Birds of Prey at one of our Falconry Experience workshops »