Hawkeye bird and animal removal news update bulletins
Raccoons, rabbits and rats: Pest control proves a pesky problem

This article originally appeared in the Globe & Mail June 9th, 2011 »

Whether it's the furtive scavenging of raccoons in Toronto or the stench of angry skunks in Vancouver, every city, province, territory and country can claim a pest that defies eradication.
In Toronto's battle between human and beast, Nguyen Dong was recently arrested after a neighbour reported someone beating a family of raccoons in his backyard garden with a spade.
2011 Bird Strike North America Conference

Dan Frankian of Hawkeye Bird & Animal Control, attended the Bird Strike conference dealing with pest bird and animal control and abatement at airport runways and taxiways.
Conversations at this conference were very informative with Mr John Weller, the head biologist for the Federal Aviation Administration FAA as well as Micheal Begier Director from the United States Department of Agriculture (USDA) .
Dan Frankian also gave several public interviews to foreign news agencies dealing with Bird and Animal control and Abatement at airports.
Stratford Culture Days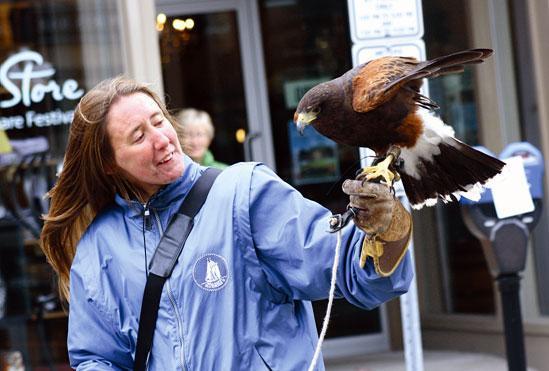 One of the attractions in Stratford during the second annual Culture Days was the Stratford Shakespeare Festival's "A Fayre Day in Camelot," which transformed Market Square into a medieval-themed market with vendors and demonstrations.

Right, trainer Julia Staines shows off Clara the hawk, who you can see in the Festival's production of Camelot.
Stratford Gazette Photo
Career Fair Foul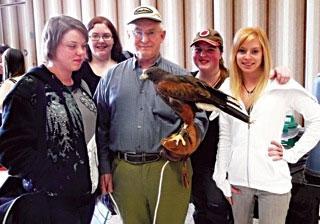 Clara a Harris Hawk, and handler Ken Bangerter of Acton's Hawkeye Bird and Animal control , were on hand to talk to students at a career fair at the Acton High School last Wednesday.
Clara often is used to control birds at the airport and in shopping malls.
Frances Niblok Photo
Timmy, the hawk takes flight
Mended bird released in urban Hamilton
Timmy, a rehabilitated young red-tailed hawk, had no trouble soaring to freedom when released, not in the wild, but at his Hamilton home ground on the Mountain. He flew up, perched himself high on a pine tree for a few seconds, and then took off to enjoy his new lease on life.
"This is so cool," rescuer Gord Marsden, a rehabilitation expert, said Wednesday as he prepared to release Timmy in a small clearing on his Upper Wellington property.
Timmy was a nestling blown out of his nest near the top of a 60- to 70-foot white pine beside Marsden's house when he was found in early July. Marsden hadn't seen him since rushing him to Hawkeye Bird Control Inc. near Acton.
Julia Staines of Hawkeye gave Timmy his name. And the bird expert is confident the hawk, now close to five months old, will do just fine. "It was a good release. He went up on the tree, got his bearings and flew off. And the way he flew, it was strong."
'On The Cat Walk' Fashion Show
Kitchener-Waterloo Humane Society invites you to the 4th annual "On The Cat Walk" Fashion Show
Sunday, April 11th, 2010 at St. George Banquet Hall (665 King Street North, Waterloo) - All proceeds go to help the orphaned animals of our community ... Details »