Hawkeye News & Bulletins
Scrubs in the City Gala
Hawkeye's Birds of Prey Pose for Pictures at SickKids Scrubs in the City Gala
On Thursday, June 1 2017 Hawkeye and team had the pleasure of showing off our birds of prey to over 1000 guests at the SickKids Scrubs in the City Event held at Toronto's own Evergreen Brick Works. Our beautiful Eurasian Eagle Owl and Harris Hawk caught the attention of party goers at this Marrakech themed party donned in their Moroccan inspired costumes and vividly coloured gowns all for great pictures with our magnificent birds. Our birds of prey fit in perfectly with the exotic décor and entertainment. Guests were able to get up close and personal with birds, learn a little about them and pose for a picture. Who doesn't want that picture on their Instagram or Facebook page 'exotic birds and party gowns'!
Hawkeye Demonstration at Casaloma in Toronto, ON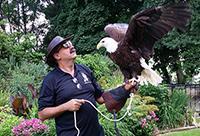 Canada Day for Hawkeye and team was spent at the magnificent Casaloma in Toronto, ON. A major tourist attraction for anyone visiting, Casaloma was constructed over a three-year period from 1911 to 1914 and became a museum in 1937. With its beautiful gardens and architecture, it is a popular venue for weddings, parties and film productions, but sees tourists, groups and schools daily.
On July 1st, 2016 Hawkeye had the privilege of bringing our magnificent birds of prey to display for the visitors at Casaloma. In tow with us were 2 peregrine falcons, our owl 'Boo', and a bald eagle. In between our demonstrations, visitors were able to get up close for a picture with Boo.
We look forward to our next adventure, who knows maybe we will see you. Hawkeye is available for your next event, a company picnic, camp or gala. Contact us today.
Bomber, The Eagle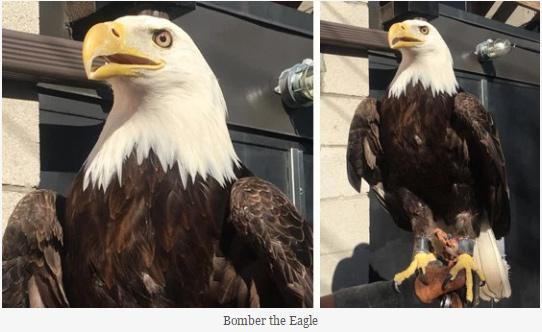 Dan from Hawkeye Bird and Animal Control has brought his friend "Bomber" to South Bayview this evening. Dan and Bomber are here at The Smokin' Cigar at 1540 Bayview for the "Alec Bradley 5 Cent Cigar Night", an invite-only event with Alec Bradley cigars (of course), food served by the one and only Andy Elder from Grilltime and entertainment. Hawkeye is a company that provides birds of prey for film & television, commercials and special events. Nice to meet you Bomber!
Why you should you be concerned about RABIES in RACCOONS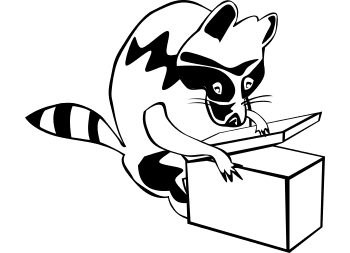 Why you should you be concerned about RABIES in RACCOONS
Hawkeye Bird and Animal Control Inc. cares about your family's welfare. We service Hamilton, Burlington, the Golden Horseshoe and surrounding areas for bird, animal and wildlife control. We will make sure your residence, business, industrial or commercial property is wildlife proofed.
Recently quoted in the Hamilton Spectator, Dan Frankian of Hawkeye Bird and Animal Control said: "We are going to make the pre-exposure vaccine compulsory for all staff; the last thing we want is for my staff to be affected."
The number of documented cases of raccoons having rabies in the Greater Hamilton area of Ontario has grown to 60 and counting since December 2015. Twenty-Four skunks have also been identified in this area along with two fox in Perth County. This is not only a threat to the raccoon population but has a large impact on people, homes and businesses.
Canadian geese launch amphibious assault
ALEXANDRA SHIMO | Special to The Globe and Mail Original Article »
The evolving saga of our beloved bird, the Branta canadensis, is a particularly domestic problem of our own creation. In recent weeks, Canadian geese have attacked senior citizens at a retirement community in Hamilton; their droppings have infiltrated a pharmaceutical company in Oakville, causing health concerns - and, at an elementary school in the same city, they pecked at small children in a near-Hitchcockian frenzy that caused a lock-down on the school. But vengeance is disallowed: the birds are protected by a government that claims to have its citizens' best interests at heart.
Philip Preville
Why the city should start killing raccoons (kindly, of course)
Raccoons are everywhere, and at all times of the day. They're a menace to private property and public health. It's time we stopped pretending the city is a wildlife preserve
BY PHILIP PREVILLE | ILLUSTRATION BY BYRON EGGENSCHWILER | Original Article »