The National Wildlife Control Operators Association (NWCOA), is a non-profit organization dedicated to serving individuals and businesses committed to providing wildlife damage management and control activities. In order to accomplish their mission, they offer timely and up-to-date educational opportunities, as well as promote those who provide quality service for their clients.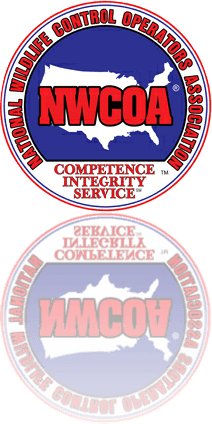 Current members include: Nuisance Wildlife Control Operators, Wildlife Damage Managers, Pest Control Operators, Nuisance Trappers, Predator Control Trappers and government industry employees dedicated to wildlife management.
The NWCOA is comprised of various committees including:
Bat Committee
Bird Committee
Scientific Advisory Committee
Fundraising Committee
Finance Committee
Fundraising Committee
Government Affairs Committee
Membership Committee
Board Development Committee
Training, Standards and Certification Committee
Vendor Relations Committee
By-Laws and Policy Committee.
Bat and Bird Committee:
Focus on those who professionally interact birds and bats on commercial and residential properties. They outline recommended practices, tools or equipment and other information essential for those who work in the field.
Scientific Advisory Committee:
This committee has a similar mission to the Bat and Bird Committee, however deals specifically with wildlife species.
Training, Standards and Certification Committee:
Create and executes various training, standards and certification programs. These include such programs as: Basic Wildlife Control Operator, Certified Wildlife Control Operator, Advanced Wildlife Control Operator, and health and safety courses for those in the field of wildlife damage, management and control. Additional courses include; Bat Standards, Goose Academy and a Shooting Course.
Bat Standards Couse:
This course looks specifically at White-Nose Syndrome in bats. White-Nose Syndrome is a disease affecting hibernating bats in North America and is characterized by a white fungus often found on the muzzles and wings of bats. This fungus has been known to kill bats in large numbers.
Goose Academy:
A course focuses on the property and agricultural damage caused by Canadian Geese, as well as provides background on various techniques and legal obligations involved with reducing this damage.
Shooting:
A course that teaches those in this field about the role of firearms in wildlife damage management.
Hawkeye's Dan Frankian is a member of NWCOA. Him and his staff attend annual conferences and training courses to further their expertise in animal and bird control, offering the most up-to-date and effective solutions for your pest wildlife.
References:
https://www.whitenosesyndrome.org/
http://ohioline.osu.edu/factsheet/W-3