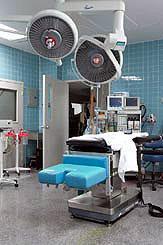 Hospitals, drug manufacturers, care facilities and other medical facilities are extremely sensitive to the smallest level of contamination from problem birds or other wildlife.

Problems Encountered
Contamination from bird and animal feces
Nesting materials and related insects in highly sensitive areas
Contamination in ventilation systems cause large scale health risks with the distribution of diseases throughout entire building systems.

Areas of specific concern in the medical services are:
Water filtration systems
Ventilation systems
Window sills

We have seen contamination so severe that complete wings of hospitals had to be shut down.

After a free discreet inspection of your facility we will provide custom long-term bird and animal control solutions, including repellents, removal, and barriers.