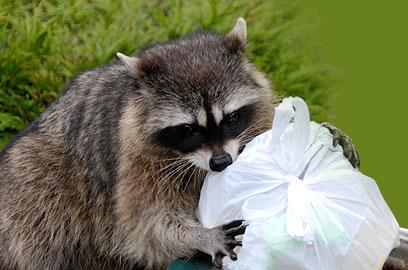 Thousands of raccoons call Mississauga their home, but unfortunately, homeowners and businesses must pay the price of them getting into gardens, attics, and roofs. Raccoons are attracted to locations where food, water, and shelter are easily accessible and they are known to tear away at loose shingles on your roof and bury inside, making nests in your roof and attic. Raccoons might seem harmless, but they can do substantial damage to your property. That's why there are services for raccoon trapping and prevention in Mississauga. Here's what you need to know about our raccoon removal and control in Mississauga.
Hawkeye's Licensed Raccoon Trapping Service in Mississauga
Many companies that provide wildlife removal state that live trapping raccoons is a short-term solution, but this is only because most companies only have the means to trap and relocate fur bearing animals within one kilometer. The issue with this is that a raccoon can travel over six kilometers in a single day, so will most likely end up right back on your property. Attempting to send animals to a location further away will only create new issues in the new environment the raccoon is released in. This new location might seem appropriate, but it may also cause stress, anxiety, and conflict with other families of raccoons in that territory. It also increases the risk that mothers will abandon their babies after relocation.
Most important of all, in the province of Ontario it is illegal to trap and relocate animals further than one kilometer.
Hawkeye Bird and Animal Control Inc. is different because all our techniques are registered with the Ontario Fur Managers Federation. We offer permanent solutions to raccoon problems, and we meet the guidelines set out by the Ontario Veterinary Medical Association. We are the only company in Canada with the licenses and means to trap raccoons and euthanize them if necessary. We will also ensure there are no raccoon offspring that are left behind in the den.
How Hawkeye's Professionals Set Raccoon Traps in Mississauga
We have a tested and true way to capture wild raccoons and remove them from your property. These steps ensure the safety of the animal until we can take them away:
Remove latch of wire cage
Place bait inside
Replace the door
Secure bait
Set trap
When the animal is captured, we will carefully take it away. The traps we use are also covered in most situations to protect the raccoon and bait from the elements.
Contact Hawkeye Raccoon Control and Removal Services in Mississauga
Hawkeye Bird and Animal Control Inc. has different control and removal methods for raccoon families on residential, commercial, and industrial properties in the Greater Toronto Area and Golden Horseshoe. Our services include passive and active removal methods that keep them away from your home without harming them. Some of these methods include one-way exit devices, hand capture, and live trapping.
We will visit your property and examine the signs that raccoons are present, then, we will search your property to discover where their nests are located. After removing the pest animals from your property, we can help you secure your house from further visits from raccoons. We guarantee results and offer permanent solutions that you won't get elsewhere.
We are the only pest bird and animal/wildlife control company in the country designated "Certified Wildlife Control Professional" and we hold the following licenses: Trapping of Fur Bearing Animals Permit, Falconry Permit, and Pest Control License.
Hawkeye specializes in providing humane and natural, environmentally friendly services, solutions, products and systems for pest animals and wildlife who are in conflict with humans or property. Control methods include, animal removal, repellents, barriers as well as human protection from damage, disease & health hazards.
Now with 7 Locations ( 6 In Canada and 1 in the U.S), we are ready to serve you better in Acton, Toronto, Oshawa, Bowmanville, two locations in Mississauga and West Palm Beach in Florida.
Contact us today or Email us at [email protected] if you need help with pest wildlife/animal control and/or pest animal removal.
Pest wildlife animals like Bats, Bears (Black, Brown), Beavers, Bobcats, Cats - Domestic (Feline), Chipmunks, Coyotes, Deer, Elk, Fox, Groundhog, Marten, Mink, Moose, Muskrat, Porcupine, Possum/Opossum, Rabbits, Raccoons, Skunks, Squirrels (Black, Grey, Red) and Lynx