Hawkeye Bird and Animal Control provides residential, commercial and industrial bird and animal control in the city of Richmond Hill, ON. Whether you have a squirrel making a nest in your attic or pigeons on your balcony, Hawkeye will help deter pest birds and animals like raccoons, skunks, groundhogs to geese, seagulls, and pigeons.
Seagull Control and Removal Richmond Hill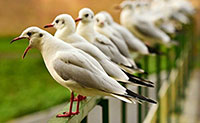 Seagulls and other pest birds (geese, in particular) heavily populate parks and other open public spaces. Traditional seagull control methods like pyrotechnics or netting aren't necessarily a viable option in these areas. However, falconry is. Birds of Prey quickly and efficiently evict a large flock of seagulls without causing actual harm to the birds. Seagulls and other pest birds do not become 'used' to the presence of raptors - they will take off in a hurry and stay away for a long while. Falconry is THE most successful seagull control method. Being completely natural and environmentally friendly is just an added bonus. Call us at 416.429.5393 today and take control of your seagull problem.
Raccoon Control and Removal Richmond Hill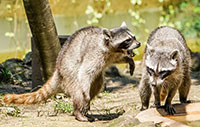 Like in most other GTA neighbourhoods, raccoons are quickly adapting to urban life in Richmond Hill. The majority of calls for help to Hawkeye are concerning raccoon control and the removal of raccoons from attics and enclosed outdoor spaces. We not only look after your raccoon control problem but also address structural damage to your home or business and help you keep raccoons out in the future. Unlike other wildlife control companies, we are able to GUARANTEE permanent results. Here's why: The Hawkeye Difference
Contact us today solve your raccoon control problem.
Nestled in between Vaughn to the west, Markham to the east, Toronto to the south, and Aurora to North, Richmond Hill has a population of 186K. It has been growing rapidly over the past decade and continues to become more densely populated. With its proximity to the city and access to GO public transit it is a popular destination for home owners who work downtown.
The makeup of the population of the city of Richmond Hill is affluent with the majority of people employed in business and finance. This also makes Richmond Hill a safe and well maintained city which has been awarded for its floral displays. Due to its affluent populous, Richmond Hill is home to a number of private schools both for grade school and high school age. Richmond Hill has been put on the map for its ownership of Canada's largest telescope, the David Dunlap Observatory, also one of the largest in the world.
Within the city there are over 150 parks and a number of golf courses like Clublink Corporation, Maple Downs, Bloomington Downs and Bathurst Glen. These attract a host of pest wildlife and birds with manicured lawns, small ponds for water sources and often unoccupied areas. Geese often plague golf courses and park areas along with groundhogs.
Surrounding one of its parks, Mill Pond, are a number of heritage homes. Heritage homes often require additional repairs and maintenance and not doing so leaves those homes open for wildlife to find a way in.
In and around this area are a number of walking trails where wildlife such as beavers, geese, deer and ducks can be spotted. No matter the age of your home, Hawkeye has a solution to your pest bird or animal problem. Learn more on how to protect your home from the damage that pest animals and birds can cause by using the informational links on our website or call one of our experts for a free consultation. We provide residential, industrial and commercial services. At Hawkeye we use multiple tactics to permanently and humanely resolve your problem. Under the licences that Hawkeye possesses, we can remove pest bird or animals from your location and humanely euthanize if necessary, a distinct difference in licencing permits that enables us to offer solutions other company cannot.
Summary: Seagull Control, Raccoon Removal in Richmond Hill