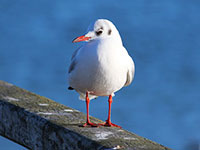 Seagulls and pigeons are among the most common pest birds that we encounter in Ontario. Aside from being annoying, seagulls are also a big nuisance to commercial properties. Once they've landed and found a place to nest, it can be difficult to get them off your property. If you're looking for seagull control in Burlington or Halton, then you've come to the right place.
Hawkeye's Seagull Control Solutions in Burlington
At Hawkeye Bird and Animal Control, we use a variety of effective, safe, and humane seagull control and removal tactics in Burlington. Our pest bird removal experts in Halton are trained in the following disciplines:
Seagull Control Using Falconry
Falconry is a natural and effective method of seagull control or removal. It involves training birds of prey such as falcons, hawks, eagles, and owls to scare off pest birds like seagulls. Since birds of prey naturally hunt pest birds in the wild, this method is the most humane form of pest bird removal in Halton. It requires a great deal of skill on the part of the falconer, however, and is illegal to do without a permit.
Netting Solutions for Seagull Prevention
At Hawkeye, we use Stealth Netting, which is made from polyethylene and nylon, to prevent seagulls from landing and nesting on your property. Polyethylene netting is resistant to UV rays and can hold up to 75 pounds of weight. Available in white, black, tan, or clear, it's also aesthetically pleasing and can match any architectural design.
Why Burlington Is a Potential Seagull Haven
With all of its natural beauty and booming population growth, it's no wonder than Burlington has become somewhat of a seagull haven. Since seagulls are water birds, they're attracted to beaches, lakes, rivers, and even oceans. Burlington is located between Lake Ontario's north shore and the Niagara Escarpment.
Other contributing factors include:
Strong population growth. A 2017 consensus showed that the population of Burlington currently sits at approximately 205,960 residents and is steadily growing. Larger populations typically mean more waste production and litter, which attracts pest birds.
An important commercial city with plenty of commercial properties. Burlington has seen substantial economic growth over the past few years which can largely be attributed to its diverse transportation infrastructure and commercial businesses. Food processing, packaging, electronics, and motor vehicle plants are among the biggest industries in Burlington. All of these commercial properties typically have large parking lots and warehouses, which are ideal nesting spots for seagulls.
Tourism spots and seagull-friendly areas around Burlington. Burlington is also known for its natural beauty and conservation areas including parks and trails, the Marina Hamilton Harbour, and the Royal Botanical Gardens—all of which encourage animals to roam freely in their natural habitats.
Why Use Hawkeye for Seagull Control in Burlington?
Hawkeye Bird and Animal Control is one of the most renowned seagull control and removal organizations in Canada and the United States. We specialize in the humane removal of pest birds from commercial properties. All of our seagull control and removal experts are thoroughly trained and have a great deal of experience in handling pest birds professionally. If you have a seagull infestation problem in Burlington, give us a call today or visit our Contact Page!