Toronto Geese Control & Management
Canada Geese are a common and arguably nostalgic sight in Toronto parks, golf courses, and along the water front. While Canada geese are migratory birds protected by the federal Canadian Wildlife Service (CWS), many stick around year-round. Geese are very opportunistic and readily exploit the 'easy living' conditions in urban environments. Fed by well meaning and bird loving citizens, they are often refered to as 'popcorn geese'. Quite plump and quite territorial. And sadly, quite unhealthy.
Geese can be a very aggravating and even dangerous problem. Hawkeye will work with you to assess your situation and make recommendations on the best course(s) of action to guarantee the best results. We ensure effective goose removal in all cases and continue working with you until all geese are gone. Call 416.429.5393 if you're having trouble with urban geese - Hawkeye's technicians are standing by at our Toronto offices.
Geese on Toronto golf courses and in Toronto cemeteries
Some of the most common places for flocks of geese to congregate are golf courses and cemeteries. The neatly kept grass lawns are an attractant: geese feed on young shoots that grow especially well when the grass is regularly mowed. Both locations are also usually somewhat secluded and offer protection and distance from heavy human traffic. Finally, there is typically a water source nearby, such as ponds or water hazards, where geese can gain refuge from land predators. Unfortunately, humans also use these spaces, and conflicts with geese can be frightening and dangerous. These areas are also designed with aesthetics in mind, so the large amounts of feces left by flocks of geese are very unsightly.
Geese at Toronto Pearson International Airport
Another major area of concern is geese at or around airports, such as Toronto Pearson Intl., one of North America's busiest airports. Large flocks of geese in the airspace and immediate vicinity create a risk of hitting and damaging incoming or outgoing aircraft. Birdstrikes are extremely dangerous for both geese and humans, as well as costly in terms of damage to equipment. In fact, it was a flock of geese that caused the birdstrike with Flight 1549 and forced the plane to land on the Hudson River. Many aircraft collisions with geese do not end in such miraculous saves.
Toronto Geese Removal
Hawkeye Geese Control and Management Services consist of a multi prong approach; from flying birds of prey over Nathan Philips Square and other parts of the city of Toronto to chasing geese from green spaces with dogs, to chemical oiling, nest removal, and more.

About Hawkeye Bird & Animal Control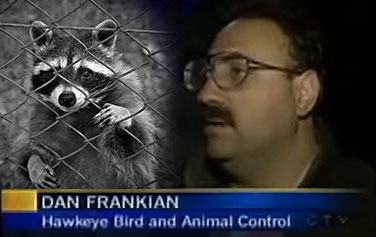 Hawkeye has been providing Geese Removal Services for the City of Toronto for well over 30 years.
Founder Dan Frankian holds a Canadian commercial falconry license, a Master Falconry Permit in the State of Florida, an Ontario Fur Managers license for commercial fur and trapping nuisance wildlife as well as numerous firearms licenses, Advanced Wildlife Control Operator, Exterminator License, is Bats Standard Certified, and a Certified Urban Marksman. Dan is the ONLY CWCP (Certified Wildlife Control Professional) IN CANADA plus holding CWCP certification in the US. He is also a graduate of the Embry-Riddle Wildlife Hazard airport course. Mr. Frankian is a sought after expert on wildlife control matters and frequently speaks to the media and at conferences.
Hawkeye Bird and Animal Control is your one-stop solution for Geese Control and Geese Removal in Toronto; from capture to removal. Call us today! 416.429.5393