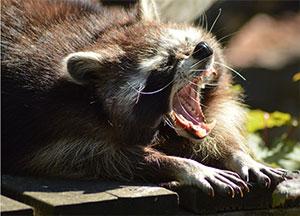 Many calls for our services in Burlington revolve around raccoons on both, residential and commercial properties. Hawkeye offers raccoon control and removal methods other companies simply cannot. We can GUARANTEE results. Learn about the Hawkeye Difference here »
Much of the damage prompting raccoon control and removal occurs in older homes with mature trees granting access to roofs and attics. In spring especially, mothers with kits will seek shelter in a quiet and secluded place... and your attic just may provide a perfect nesting/den site - attics are dry, warm and quiet. Raccoons gain access to your attic through many possible locations such as around chimneys, roof vents, loose or missing soffit or fascia. These are all perfect access points for a determined raccoon. Raccoons use their keen sense of smell to locate damp rotting wood. They then target these areas on your roof to gain access to the attic, ripping up shingles and digging through the softened, rotting wood.
Raccoons tend to have both sleeping quarters and latrines (bathroom) in the attic. Accumulated raccoon feces and urine damages the ceiling in your home. It doesn't take much for feces and urine to eat away at the ceiling, resulting in staining in the rooms below, or even collapsing to the rooms below. This is dangerous to the structural integrity of your home, as well as your family's health. Raccoon excrement carries diseases as well as promotes mold. Removal of raccoons and their feces and urine is a specialist job. Please do not attempt to do this on your own. For safe and humane raccoon control and removal call Hawkeye today at 416.429.5393
Once you've made the call to Hawkeye, one of our Burlington raccoon control and removal technicians will assess your situation and propose a course of action. We have several options for trapping - and options, other companies simply cannot offer.
What makes Hawkeye Bird and Animal Control unique is that all of our raccoon control & removal technicians carry trapping licences registered with the Ontario Fur Managers Federation.
Many wildlife removal companies state that live trapping raccoons is not a permanent solution. This is only true because most wildlife removal companies only have the ability to trap and relocate fur bearing animals within one kilometer. This practice poses issues when considering the new environment the raccoon is being released in. What you may think is an appropriate place to relocate a raccoon, may still cause stress, anxiety, and more than likely a conflict with another family of raccoons already living in this territory. In fact, most relocated animals only survive up to 2 months and most mothers will abandon their babies after they have been moved. Not to mention there are strict guidelines in terms of relocation. Where the animals are moved must be considered a suitable habitat and land owner permission must be obtained. Another issue with relocation is that one kilometer is not very far – considering a raccoon can travel over six kilometers in a single day. You are bound to end up with raccoons right where you initially found them. More on this here »
Burlington is located at the northwestern end of Lake Ontario in Ontario and forms the west end of the Greater Toronto Area. We service Burlington from our Mississauga location.