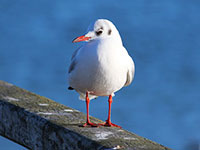 Whether you are a manager of a commercial building or its owner, you know that pest birds can be a serious issue if left unresolved. When you notice more seagulls flying overhead or nesting on your roof, it can become a health and safety risk and affect the structural integrity of these areas. Seagulls can make their nests around electrical areas and ventilation systems or leave their droppings around and increase the risk of spreading diseases.
If you want to safeguard your property from the risk of seagulls nesting on your roof, or if you've already noticed a problem, waste no more time—contact the professionals. Hawkeye Bird and Animal Control offers effective seagull prevention and control in Whitby. Here's why seagulls can be a serious problem and how we can help.
Why Seagulls Choose Commercial Properties in Whitby
Most commercial buildings provide the perfect environment for birds to survive. Birds can find warmth and security near electrical signage and can find shelter and comfort in an air conditioning unit on a rooftop. High ledges make great roosting sites and provide vantage points to help them see when predators are coming near.
Unfortunately, this many birds living on your commercial property means droppings will be left everywhere. These droppings can stain building exteriors, deteriorate the roofing materials and can be a health risk for your employees and customers. Plus, this messy environment leaves the impression that your business is unclean and poorly maintained.
Since Whitby is home to various waterfront trails, beaches, and the Whitby harbour, there are many visitors and tourists attracted to the city. Additionally, the growing urbanization of the city makes it appealing to more people. With more food, garbage, and places to nest in the area, it is no surprise that seagulls head to commercial buildings for more privacy and security.
Seagull Prevention Methods by Hawkeye
Seagull Control Using Falconry
Perhaps the most effective and permanent solution for pest bird control in Whitby is the use of falconry. A trained predatory bird can be set free in the area to scare away the pest bird population and hunt if necessary. Our professionals are licensed to use these birds and have effectively disrupted seagull homes from many commercial and residential customers' properties.
Netting Solutions
Netting can also be used to keep pest birds off certain areas of your property. This mesh netting can be made of polyethylene or nylon and comes in many different sizes to suit your needs; they can even be made upwards of 100 x 100 feet.
The size of holes in the mesh is determined by the type of pest birds we are dealing with. The smallest netting size we offer is 2/3's of an inch which is small enough to exclude all species of birds. These nets are supported by galvanized or stainless steel attachments depending on your budget and location. For example: netting on bridges near open water would require galvanized attachments to prevent from fast rust and corrosion on the attachments. It is also often used to prevent access to areas like warehouse venting, air conditioning units, fans, balconies, and more.
Seagull Control Using Other Methods
There are many other ways professionals can help you keep gulls away. These include:
Visual deterrents (balloons, kites, streamers)
Pyrotechnics (loud noises)
Lasers
Hawkeye's Seagull Control Services in Whitby
If you're seeking pest bird control in Durham Region, our professional services can help you get rid of the problem for good.
Hawkeye Bird and Animal Control services residential, commercial, and industrial properties in the Greater Toronto Area, Golden Horseshoe, and many parts of Florida. We manage pest birds, animals, and other nuisance wildlife. Our services include animal and bird control using birds of prey, falconry experience, balcony cleaning and netting, exclusion, installation of screens for doors and dock seals, and a variety of deterrent methods using sounds and visuals. We guarantee results and offer permanent solutions that exceed our competitors.
Contact us by visiting our web site, email [email protected] or call us at (416) 429-5393.
Related Articles: Seagull control in Pickering, Pest Bird Removal in Durham Region