Squirrely in Toronto
Guaranteed Squirrel Removal from Torornto homes and properties - it's what we do.
Unlike other Toronto Area animal control operations, as a licensed furbearer trapping company Hawkeye can employ raccoon control methods IN ADDITION TO relocation of captured animals in the Greater Toronto Area. This is why we guarantee the permanent removal of squirrels and other wildlife. Call 416.429.5393 if you're having trouble with urban squirrels - Hawkeye's technicians are standing by at our Toronto offices.
Squirrel Control & Removal in Toronto
Not only is Toronto is known as the raccoon capital of the world, its sizable squirrel population is something to behold as well. Toronto is home to the Eastern grey, black, red, and even the occasional white squirrel. While squirrels are mostly seen as a nuisance around the bird feeder and not generally associated with damage or disease, they can certainly do a number on your roof while seeking access to your attic. Their large teeth make perfect tools to use on roof shingles or wood-based structures, from home furnishings to siding or window areas. Even more troubling, squirrels are very efficient chewing through all sorts of materials found inside your home... like insulation and electrical wires.
Additionally, there are growing concerns about squirrels carrying the 'squirrel flea' or Orchopeas howardi. These fleas carry large numbers of bacteria that can infect roaming domestic animals, and even humans who come across an empty squirrel nest. Getting rid of these fleas requires immediate professional treatment.
Calling a professional like Hawkeye is equally crucial when it comes to removing squirrels who have gained access to your home or business. It is of utmost importance to ensure that there are no young inside when using a trap. A one-way door trap works quite well AS LONG as there aren't any babies left behind. We will then remove the animals. Because of our unique licensing, Hawkeye can offer options OTHER than releasing the captured squirrel(s) within a Kilometer radius of your Toronto area residence or business.
More importantly, after removing squirrels from your Toronto dwelling, we'll need to 'squirrel proof' your home. Preventative reinforcement goes a long way to keeping squirrels out, once evicted. Because of their extraordinary ability to climb and their tenacity when it comes to chewing their way into your home, that reinforcement needs to be substantial.

About Hawkeye Bird & Animal Control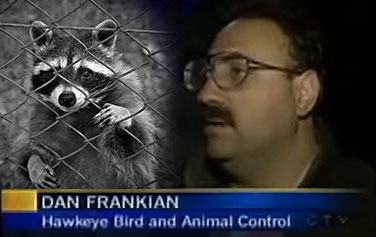 Hawkeye has been providing Squirrel and Raccoon Removal Services for the City of Toronto for well over 30 years.
Founder Dan Frankian holds a Canadian commercial falconry license, a Master Falconry Permit in the State of Florida, an Ontario Fur Managers license for commercial fur and trapping nuisance wildlife as well as numerous firearms licenses, Advanced Wildlife Control Operator, Exterminator License, is Bats Standard Certified, and a Certified Urban Marksman. Dan is the ONLY CWCP (Certified Wildlife Control Professional) IN CANADA plus holding CWCP certification in the US. He is also a graduate of the Embry-Riddle Wildlife Hazard airport course. Mr. Frankian is a sought after expert on wildlife control matters and frequently speaks to the media and at conferences.
Hawkeye Bird and Animal Control is your one-stop solution for Squirrel Control and Squirrel Removal in Toronto; from capture to removal and necessary structural repairs . Call us today! 416.429.5393