Servicing Woodbridge / Concord / Maple / Vaughan / Thornhill / Kleinberg, ON
Hawkeye Bird and Animal Control provides raccoon control and removal and seagull control and removal in the City of Vaughan and surrounding areas. Hawkeye has been providing service to the 6 cities that comprise Vaughan for over 25 years. We provide animal and bird control for residential, commercial and industrial customers in and around the greater Vaughan area. Please consider us for all of your animal and bird control needs. We specialize in removing raccoons, skunks, squirrels, gulls (seagulls), geese and pigeons. Please give us a call for a free consultation to discuss your animal or bird control questions and concerns.
Most complaints in regards to Pest birds and animal wildlife deal with seagulls and raccoons.
Seagull Control in Vaughan
Seagull flocks will gather anywhere where there is food readily available. Nowadays, any urban center with plenty of people and fast foods will attract seagulls galore. Manufacturing plants with mostly flat roofs make for perfect nest building sites and any open green space is just a bonus.
Here at Hawkeye, we specialize in seagull control. In the city of Vaughan, as well as elsewhere, we use a multi pronged approach and long term planning when it comes to seagull control and removal. Most effective for dispersing large numbers of seagulls are our birds of prey. We use falconry for seagull control. To learn more about ALL methods available to control and remove seagulls please contact us or visit our Seagull Control Section »
Raccoon Control and Raccoon Removal in Vaughan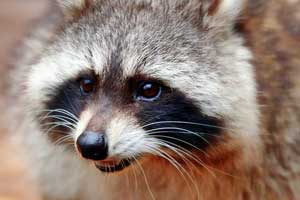 Vaughan is a community rich in green spaces, residential communities, commercial properties, and industrial parks. While nuisance raccoons are usually an issue for residential home owners, we do see raccoons getting into factories and commercial buildings in Vaughan as well. Racccoon control and removal make up most of our calls for wildlife problems. Whether you have a raccoon in your attic, under your deck, in your backyard, on a construction site, or in an industrial factory, Hawkeye has the right raccoon removal and raccoon control option for you. Many people just see raccoons as a nuisance but they carry many diseases that can be dangerous for you and your pets and they can cause a lot of costly damages to your home. At Hawkeye, we guarantee the permanent removal of raccoons. Contact Hawkeye now for a personalized and effective solution to your raccoon control and raccoon removal needs in Vaughan.
The city of Vaughan is comprised of 6 separate communities. Woodbridge, Kleinburg, Maple, Vaughan Metropolitan Centre, Thornhill & Concord. This area has experienced explosive growth over the last 20 years. The current population is just under 300,000 people. The community is located north of the city of Toronto and is within the Greater Toronto Area.
The key attractions in Vaughan are:
Canada's Wonderland
Kortright Centre for Conservation
McMichael Canadian
Vaughan Mills.
Boyd Conservation Area
Doctors McLean District Park
Rainbow Creek Park
Woodbridge Fairgrounds
Fundale Park
Memorial Hill with a tower
Pierre Berton Library
Vaughan is a suburban city within the greater Toronto area. The city is bounded to the north by protected land of the green belt ensuring a picturesque northern edge. Vaughan is a mixture of established homes and an expanding suburban edge. With rapid expansion there are frequent interactions with raccoons, skunks, deer and other pest animal wildlife. Small changes to your property can help deter wildlife from taking up residence. Removing food sources like bird feed and cat food, as well as removing standing water in bird baths or ponds will encourage wildlife to go elsewhere.
Learn more on how to protect your home from the damage that pest animals and birds can cause by using the informational links on our website or call one of our experts for a free consultation. We provide residential, industrial and commercial services. At Hawkeye, we use multiple tactics to permanently and humanely resolve your problem. Under the licences that Hawkeye possesses, we can remove pest bird or animals from your location and humanely euthanize if necessary, a distinct difference in licencing permits that Hawkeye holds compared to many other animal control companies. Whether you live in an older part of the city new home, you will encounter wildlife. Learn how to safe-proof your home or business from pest birds and animals by clicking on our tools and tips for Bird and Animal Control. Call us now to get a free consultation on how we can help you deal with your pest problem.